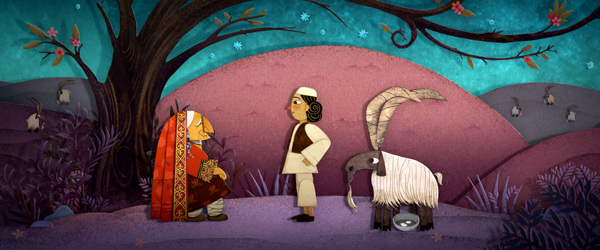 The new animated film, The Breadwinner, is set in Taliban-controlled Afghanistan in 2001, and centers on Parvana, an 11-year-old girl who cuts off her hair to disguise herself as a boy to help support her family and seek a way to rescue her father. [Photo provided to China Daily]
A string of Academy Awards is helping to put an Irish animation studio on the map. Xu Fan looks at how its films may be received by Chinese audiences.
Irish director Nora Twomey believes her new animated movie may resonate with Chinese because of its similarities with the story of Hua Mulan, the brave daughter who disguises herself as a young man to take her father's place in the emperor's army.
Indeed, her new film, The Breadwinner, which is set in Afghanistan, resembles the Chinese ballad first transcribed 1,500 years ago, she explains during the 14th China International Cartoon & Animation Festival in Zhejiang's provincial capital, Hangzhou.
The animator-director shared some of the film's behind-the-scenes stories at the event.
When it comes to animated movies, most Chinese people would expect their favorite flicks to hail from Hollywood or Japan.
But thanks to glowing word-of-mouth reviews from a growing group of Chinese moviegoers, Irish animated films have steadily been gaining recognition for their culturally distinctive features in movies such as The Secret of Kells, Song of the Sea and The Breadwinner.
While it might seem like a coincidence that all three of these films received a nomination for best animated feature at the Academy Awards in 2009, 2015 and 2018, respectively, it may come as no surprise that these movies were all produced by Cartoon Saloon, an animation studio based in Kilkenny, a town in southeastern Ireland.
Twomey, who co-founded Cartoon Saloon with two friends in 1999, recalls the inspiration for The Breadwinner, which was adapted from the 2000 children's novel of the same name, and was originally penned by Canadian author Deborah Ellis.
"Ellis is an incredible woman. She's interested in the rights of children around the world. When I read her book, I was very inspired," recalls Twomey, during an interview on the sidelines of the event with China Daily.