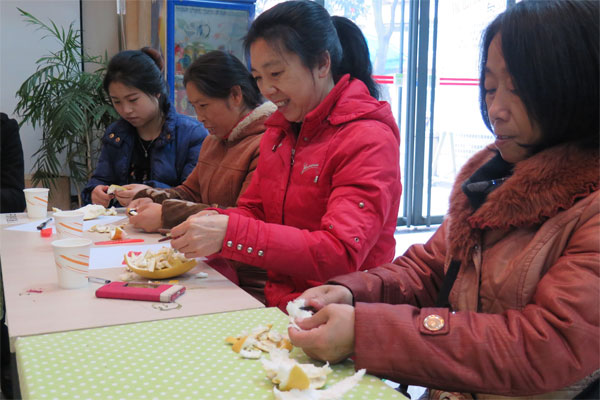 Community residents in Chengdu ferment kitchen waste at a processing center set up by students from Southwest Jiaotong University. [Photo provided to China Daily]
A competition among university students produces garbage-disposal innovations. China Daily reports.
They're competing to become "CEOs"-that is, "chief environmental officers".
About three-dozen students were rehearsing pitches under their breath and cradling packages of plastic bottles as they prepared to present in a Beijing Forestry University auditorium on March 23.
They were members of the 10 finalist teams of the 2017 national "In with the Trash" contest that encourages university students to devise creative ways to reduce waste.
More than 1,400 teams from 50 Chinese universities have participated since last September. The students developed solutions using technology, design and education.
"We hope the youth can motivate people around them to become eco-conscious and environmentally responsible after this competition," says China Foundation for Poverty Alleviation project manager Jin Shuyu.
The foundation and global food-products manufacturer Mars co-sponsored the event.
The 10 finalists' proposals focus on recycling, reusing and waste sorting.