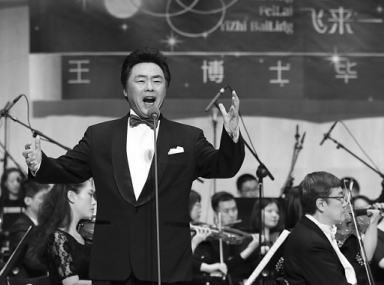 Chinese tenor Ding Yi performs at China Conservatory of Music in June 2017. [Photo provided to China Daily]
Ding Yi performed as Alfredo Germon, the lead male role in Giuseppe Verdi's opera La Traviata, at the Sydney Opera House in 2002.
As the first Chinese tenor known to have sung at the cultural landmark in Australia, the role also led him to other performances there, such as in masterpieces Tosca, Rigoletto and Faust.
Today when Ding looks back upon that time, he not just recalls his excitement and pride but also the contribution of his teacher, Shen Xiang, the late tenor and vocal music educator, from whom he had learned opera in the late 1980s.
"La Traviata was the first opera I learned with Shen. It brought back lots of memories of him when I performed in Sydney," says Ding.
In early 1980s, when Ding, now 56, was a teacher at the Xi'an Conservatory of Music in Shaanxi province, Shen was teaching at the Central Conservatory of Music in Beijing.
"Shen was a famous teacher and I didn't expect I would become his last student," Ding says.
"He not only trained me to use my voice to sing but also corrected my diction, because he spoke four languages-English, French, Italian and German."
During Spring Festival in February, Ding visited Shen's 95-year-old widow, Li Jinwei, a veteran soprano and music educator, and they talked about bringing together other students of Shen for a concert in tribute to their teacher on the 25th anniversary of his death this year.
On Friday, some 54 singers, including veterans such as Yin Xiumei, Yu Junjian and Yan Weiwen, and young students from the choir of Beijing-based China Conservatory of Music, where Ding teaches, will perform at the concert, with repertories of popular Chinese folk songs and classic arias from operas, including Carmen and La Traviata.