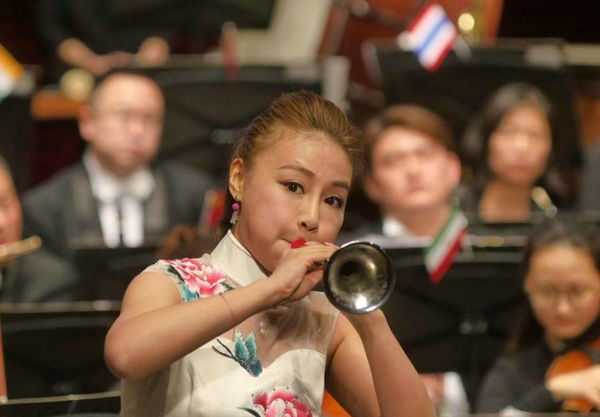 Chinese suona artist Zhang Qianyuan performs with an orchestra at the opening concert of the 2018 Shenzhen "Belt and Road" International Season on March 23, 2018. [Photo/xinhuanet.com]
The underway 2018 Shenzhen "Belt and Road" International Season that commenced on Mar 23 will offer 18 performances by musicians and artists from over 40 countries and regions until the end of April.
The opening concert, under the baton of Zhang Guoyong and Lin Daye, features American Chinese pianist Lin Cho-liang, Argentine musician Walter Rios, and Chinese singer Lei Jia.
During their intense rehearsal, some musicians were interviewed about their feelings and opinions about the event.
"Although I'm 29 years old, I know that tea, a beverage that our Mongolian people cannot live without was imported into our country by the ancient Silk Road. This time, as one of the representatives from the 'Belt and Road' countries to participate in the music season, I feel both honored and pressured and I will do my best," said Mongolian baritone Ariunbaatar Ganbaatar.
"The sitar concerto Celebration I created is a work especially dedicated to the Shenzhen 'Belt and Road' International Music Season. I don't worry at all that the Shenzhen audiences cannot understand my music because music can be our shared language despite the fact that we are from different cultures and speak different languages," said Indian sitarist Gaurav Mazumdar.
"The sitar concerto itself is a perfect fusion of cultures as it was staged by me and musicians from Shenzhen and other countries. To perform it well, even a half-second rhythm error is intolerable. Therefore, we need to appreciate, understand, and respect each other," added the sitarist.