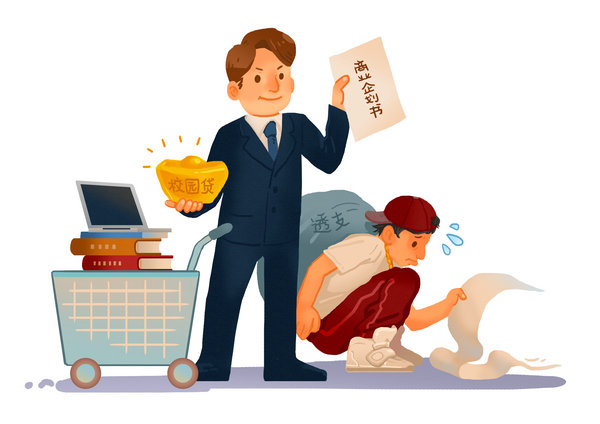 LIANG LUWEN/FOR CHINA DAILY
Sun Yukun finally put the lock back on the Pandora's box she had opened after an impulsive shopping spree, which landed her in debt and deprived her of financial freedom for more than six months.
It all started when she used a pay-by-credit service, a virtual credit card that gives users a consumption quota to fulfill their spending impulses.
Last summer, Sun received from her mother a pair of cream-colored Puma sneakers designed by singer Rihanna as a gift. She loved them, but she also longed to own a pair in black so that she could wear both colors on her college campus.
"I shop for instant gratification," says the 20-year-old Chinese language and literature major at Northwest University in Xi'an, Shaanxi province.
Reluctant to ask her mother for money, Sun resorted to trying Huabei, or Ant Credit Pay, a loan and installment service that is affiliated to the top Chinese Alibaba Group. She splurged about 800 yuan ($126) to fulfill her desire.
Unlike previous generations, who are more used to tapping into their savings, the younger generation is increasingly jumping onto the buy-now-pay-later bandwagon. They are a large group in China's burgeoning consumer-credit landscape.
"People born in the 1990s constitute 47.3 percent of our platform's registered users," Hu Tao, Ant Financial's vice-president tells China Daily. "That translates to 45 million young adults using the 'money of tomorrow' to pay for discretionary purchases."
Sun thought she could pay the money back without much effort. Unexpectedly, she set Huabei as her primary method of payment and continued to make daily purchases as well as buying expensive products, including a Sony noise-cancelling headset via the virtual credit. In a visit to Beijing from her hometown, she emptied her 3,000 yuan savings account and borrowed 1,000 yuan from Huabei to buy food and drinks in the city.
"Ant Credit Pay is convenient, as it allows buyers to purchase a variety of things both online and in physical shops," she says. "Plus, I don't need to pay the interest in the following month."
Lacking self-restraint, the cost of using this kind of service turned out to be painful. For seven consecutive months, Sun had to spend about 1,000 yuan-half her monthly living costs supplied by her parents-to cover the Ant Credit bill.
"It was a vicious circle," she says about the online purchases. "After paying the bill, I didn't have much left, which drove me to deficit spending for long."
Sun says it compromised her living standards and put her under immense pressure. She continued to keep the debt a secret from her parents. She thought about finding a part-time job to cover the debt, but as a senior student, her busy school life pre-vented her from doing that.
"I never imagined a pair of shoes could lead me to such a situation," she says. "The only way to end this vicious circle, in my view, was to stop using the credit option."
After Spring Festival, Sun used some of her "lucky money" to clear the debt. She then disabled all her pay-by-credit services.
"I will never live beyond my means again," Sun says. "For people like me who don't have an income or a sense of self-control, and lack financial management skills, these types of services really are like opening up a Pandora's box."