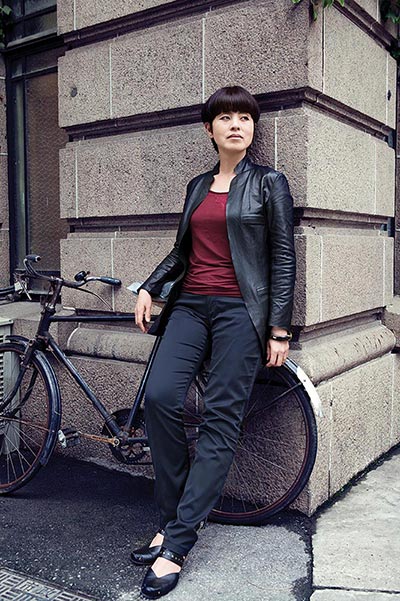 Yu Hong [Photo provided to China Daily]
When New York City's Solomon R Guggenheim Museum presented its extensive survey of Chinese contemporary art, titled Art and China After 1989 (held from October 2017 to January 2018 and now running at the San Francisco Museum of Modern Art), one of the works showcased was from Yu Hong's Witness to Growth series. It's an image composed of two parts; one shows Yu cutting her hair in her dormitory room, a somewhat banal event, while next to her is a newspaper clipping of Chinese leader Deng Xiaoping on his tour of Guangdong as part of the reform and opening-up policy. Yu has made a habit of painting herself at different stages of China's economic and cultural evolution, and juxtaposing her work with newspaper reality. "Against the backdrop of a nation-state's grand narrative, the quotidian details of our tiny individual lives are all the more important," she explains.
Nobody does the seemingly trifling or random happenstances of daily life in the world's largest country better than she does. Born in 1966 in Xi'an, Yu is the star of realism in China's art world. "My work consists mostly of realist paintings concerned with human growth, the human condition and the various problems we face," she says. Noting that China has changed so dramatically in the past 30 to 40 years, she says in this era of change she is "first an observer" – as she lives right in the middle of the change. She began the Witness to Growth paintings in 1999, after the birth of her daughter. "She was like a blank page, and as she grows up, it's up to society to inscribe this blank page," recalls Yu. So she has painted one set per year since, juxtaposing the personal against the national. The series represents "personal growth and social development", she says, going on to describe them as "pulsing systems that infiltrate and interfere with one another, against the backdrop of a nation-state's grand narrative".