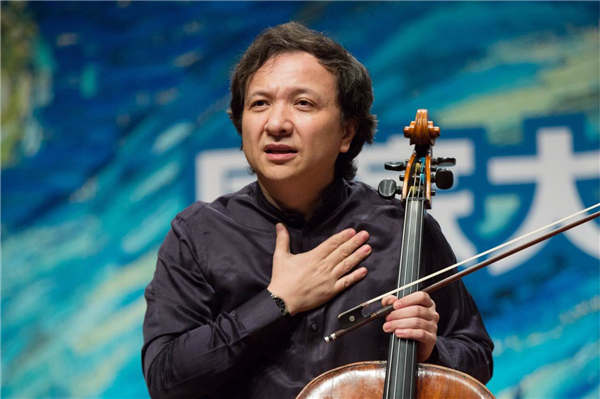 Chinese cellist Chu Yibing [Photo provided to China Daily]
Since its debut in 2016, SuperCello has helped many Chinese youngsters to meet and interact with professors and young musicians from schools overseas.
Everywhere Beijing-based cellist Chu Yibing goes he carries along with him a traditional balm famous for its sharp odor and power to relieve fatigue.
During the past year, he has been fully occupied with SuperCello, a four-day event he initiated in 2016. It will bring together more than 60 cellists from around the world to Beijing from April 28 to May 1.
"The smell keeps me calm and relaxed. I sent hundreds of emails and made phone calls to discuss details with the musicians. It took lots of sleepless nights to make everything happen," says Chu, 53, a great cellist of his generation.
Born in Beijing to musicians Zhu Yongning and Wang Yaoling, both teachers at the capital's Central Conservatory of Music, he started learning the cello at age 8 and went to Europe to pursue his music studies in 1983. Six years later, he became the principal cellist of Switzerland's Basel Symphony Orchestra. After nearly two decades living and working in the West, he returned to China in 2004. He can speak Italian, French and German.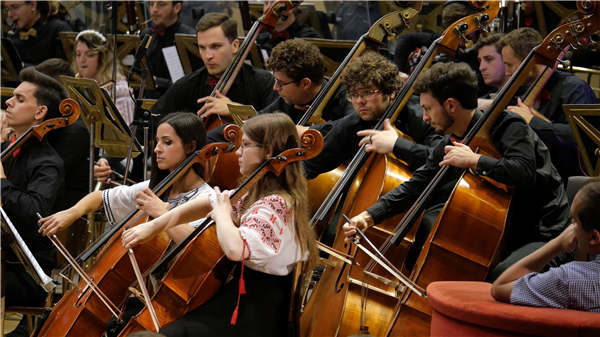 SuperCello project, started by Chinese cellist Chu Yibing two years ago, opens with interactions between Chinese and Western students on April 28, followed by a performance by the Romanian Youth Orchestra. [Photo provided to China Daily]
SuperCello, held once a year during the May Day holiday, offers full-day events to audiences such as recitals, master classes and workshops. It turns the hallowed arena of the concert hall of National Library of China in Beijing, where classical musicians perform serious music, into "an amusement park".
"From breakfast to dinner, you are surrounded by music, which is a rare experience for most Chinese audiences," says Chu. "It is all about music and communication. Everyone has a great time here."
Unlike classical music recitals, which have different ticket prices, Chu decided that "there is no first class, second class or third class. Audiences just come and sit, or stand anywhere they want".
"You can leave and return at any time as long as you show your ticket," he says.
This year, the event will start with exchange programs between Chinese and Western students during the afternoon of April 28. At 7:30 pm on the same day, the Romanian Youth Orchestra will perform under the baton of conductor Philippe de Chalendar with pieces including Antonin Dvorak's Concerto for Cello and Orchestra in B Minor, Edouard Lalo's Concerto for Cello and Orchestra in D Minor and Dmitri Shostakovich's Concerto No 1 for Cello and Orchestra.