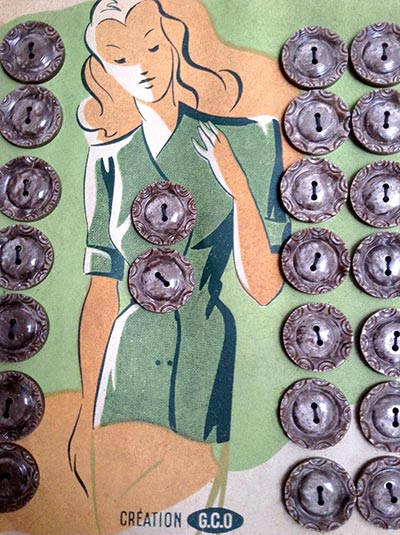 Parisian collector Brigitte Renaud opens the doors of her haberdashery for an exclusive visit. [Photo by Marine Orlova/China Daily]
You don't seem to take much notice of these items until they're missing. But how many shirts and coats sit for months in dark closets because of a lost button? Although they're indispensable, buttons probably don't seem like the most exciting part of a garment.
Yet there was a time when they were precious accessories and symbols of social status. Buttons only became affordable with the advent of the Industrial Revolution, when mass production gave birth to the iconic four-hole model. But during the Middle Ages, they were made with gold and remained the privilege of the wealthy; numerous buttons on a jacket meant plenty of money in the pockets. Buttons reached the peak of popularity during the 18th century, when King Louis XIV of France made them most fashionable. He (and, subsequently, all the courtiers) donned jewel-like buttons made with a variety of precious stones, or adorned with highly sophisticated miniature paintings – these buttons often cost more than the whole outfit.