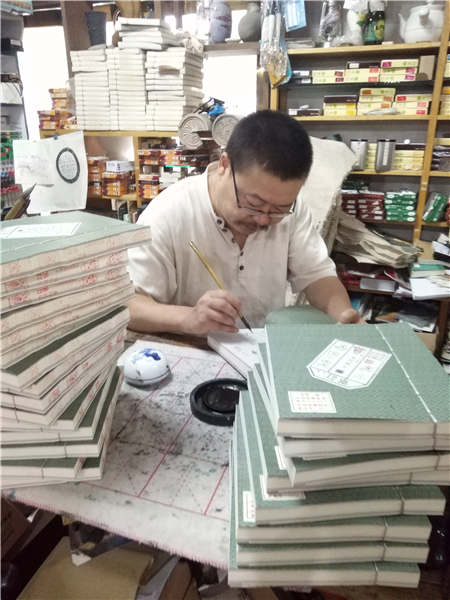 Lyu Chonghua, owner of the Fangyuan Bookshop in Xi'an, Shaanxi province, takes to painting to uplift him from his daily routine. His ink paintings cover legendary figures from Chinese mythology, and details of everyday life such as eating watermelon or catching fish from a river. [Photo provided to China Daily]
A bookstore owner in Xi'an is selling his paintings to support his business during sluggish trade. Yang Yang reports.
To attract more visitors amid a sluggish book business in China, many bookstores are renovating furnishings and decorations, and are selling coffee, cake and cultural products such as bags and postcards, as well as hosting events or lectures.
Lyu Chonghua, owner of Fangyuan Bookshop in Xi'an, Northwest China's Shaanxi province, however, has decided to sell his paintings.
"My dream bookstore should be like a literati's study, so jampacked with books that many of them have to be stacked on the floor, unlike the fashionable stores with many seats and bars. Besides, it costs a lot to upgrade the look of a bookstore," says Lyu, 47.
He has run the 200-square-meter bookstore dedicated to fine arts, which is located near the south gate of the Xi'an Academy of Fine Arts, since he graduated from that college 22 years ago.
In the style of traditional Chinese painting, Lyu draws inspiration from legends, myths, fairy tales, arts, cartoons and everything that he finds interesting in daily life. He uses his free time at the store to paint mostly on a "crude" kind of paper that measures 34 centimeters wide by 138 cm long.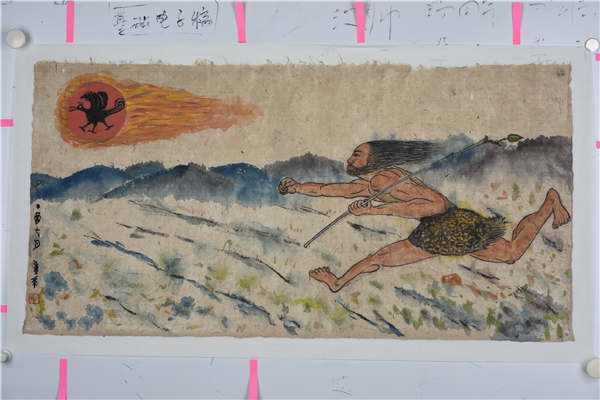 [Photo provided to China Daily]
"Year after year, I stay behind the counter, unable to go anywhere else, even when there are no customers in the shop," he says. "I dream of flying but can only fly in my paintings."
In one of his works, he and his wife, Liang Bing, appear as the images of Fu Xi and Nyu Wa, the Chinese mythological equivalent of Adam and Eve.
In this painting, Lyu's character is wearing an azure knee-length shirt and Liang's a floral cheongsam, but instead of legs, like the mythical images, both have serpent tails that twist around each other. Lyu holds a red plate with a raven design representing the sun, and Liang holds a white plate with a design of cherries and a toad, symbolizing the moon.
"The image is an ancient Chinese totem that can be seen on the walls of ancestral houses or vaults from the Han Dynasty (206 BC-220). The copulation symbolically gave birth to the Chinese nation and Chinese culture, represented by the things in their hands," Lyu explains.
In another piece called Nyu Wa Fixed the Sky, Lyu, as a replacement for the mythological Earth goddess, takes to the air wearing nothing but a ribbon as he tries to fix a hole in the sky with a heavy book.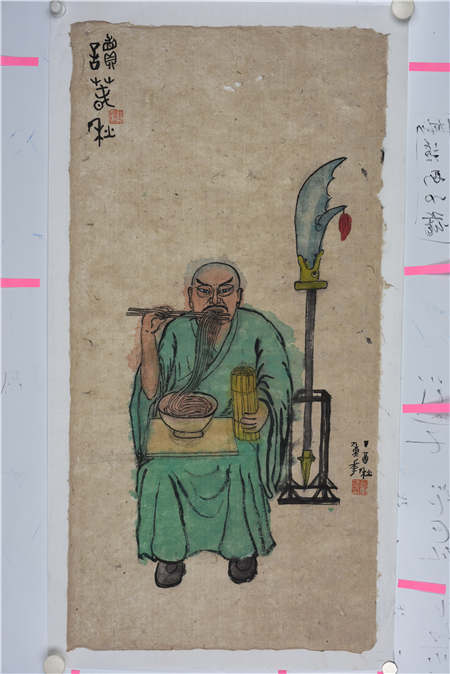 [Photo provided to China Daily]