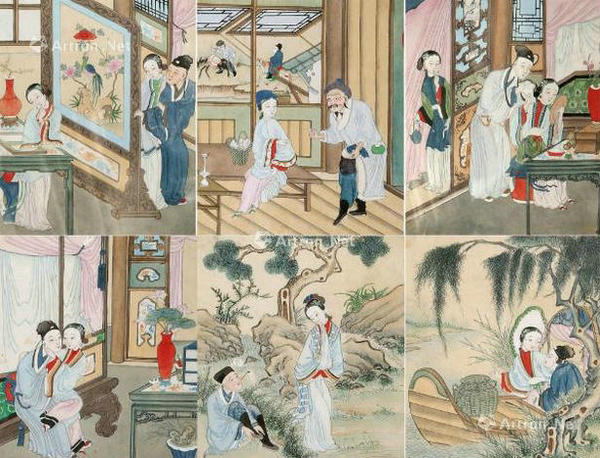 Paintings feature erotic literature Jin Ping Mei ( The Plum in the Golden Vase). [Photo/artron.net]
Mencius once said: "The desire for food and sex is part of human nature."
Now that recipes from China's most well-known piece of erotic literature Jin Ping Mei (The Plum in the Golden Vase) have been made into a book, they can tell many stories about traditional Chinese culture.

Recently, Pan Jinlian's Dumplings was published, offering just such a window.
The book features a series of recipes related to the author of Jin Ping Mei and the protagonists from the classic text.
The new publication was illustrated by paintings from celebrated artist Dai Dunbang. Through ink painting, Dai once featured about 200 characters from two Chinese literature classics Hong Lou Meng (The Dream of the Red Chamber) and Shui Hu Zhuan (Outlaws of the Marsh).
Created in the Ming Dynasty (1368-1644), Jin Ping Mei has been adapted into three films and a ballet dance drama. The characters of the book name, jin, ping and mei are from the names of the three female protagonists — Pan Jinlian, Li Ping'er and Pang Chunmei.
The most famous of the three, Pan poisoned her husband after her affairs were discovered. Her name has become a synonym for "whore" in Chinese culture.
Writer Liu Zhengyun wrote a book named I am Not Pan Jinlian that was put on the big screen in 2016. The book has nothing to do with Jin Ping Mei or Pan, and only uses Pan's name as a metaphor.