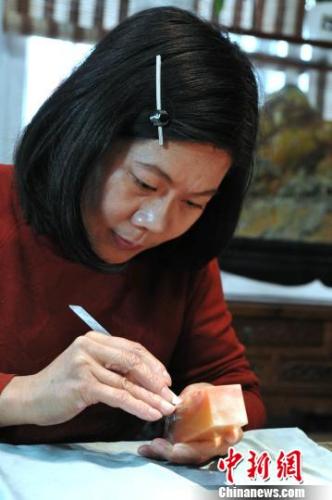 Ye Zi, a Shoushan stone sculptor in East China's Fujian province, works on a stone carving. [Photo/Chinanews.com]
Among the 130-odd types of Shoushan stones mined in Shoushan village, East China's Fujian province, Huakeng stone is a more readily available and less precious type compared with other rare ones.
However, Ye Zi, a female Shoushan stone sculptor, has been working to infuse the plain-looking Huakeng stone with traditional Chinese culture and turn it into works of art with a different kind of aesthetic value.
Interestingly, unlike many other carvers, Ye didn't learn sculpting skills from a certain teacher, but from books. For this reason, she could avoid the influences of a teacher. Therefore, during her past 20 years in this profession, she has been trying to find the merits in every type of Shoushan stone, instead of only being attracted to those more precious varieties.
Mottled in color and rough in texture, Huakeng stones are normally less adored by Shoushan stone carvers. Nevertheless, Ye has noticed a special beauty in them. She thinks they are "simple" and "pure", like the scholars in ancient times -- plain on the outside, yet charming within.