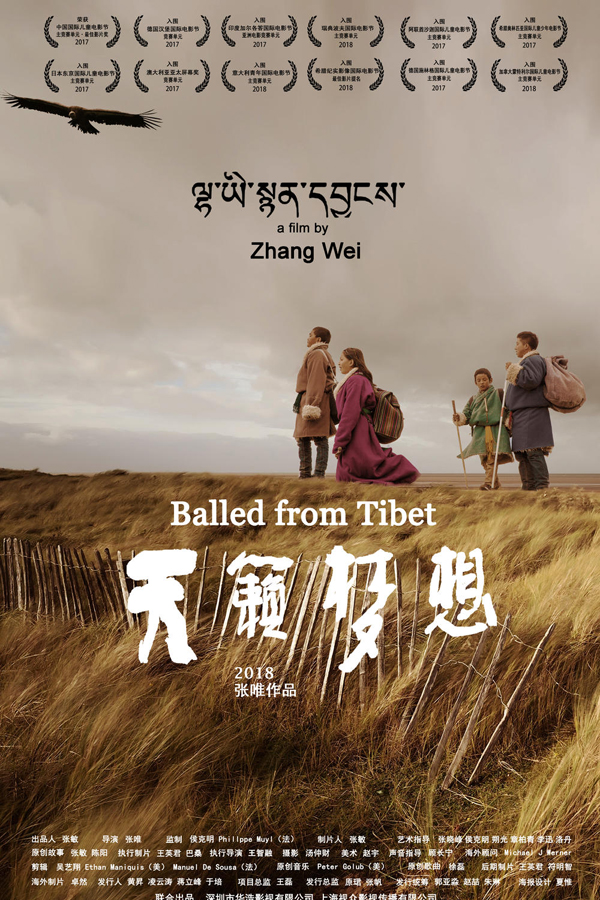 Poster of the film Ballad From Tibet [Photo/Mtime]
Along with his three friends who also suffer from blindness, Thupten embarks on an exciting adventure. Together they decide to go to Shenzhen in South China's Guangdong province, a city more than 3,700 km away from Tibetan regional capital Lhasa.
They choose Shenzhen because Kelsang, the youngest of the four children, measures the distance with his arm on the map and realizes that it is merely a forearm away.
During the trip Thupten is to serve as the group's leader because, despite his ailing sight, he is the only one among them who can see anything at all.
The reason for the children's decision to go to Shenzhen is their love of music. They are all talented and want to sing their hearts out in front of national audience by participating in a Shenzhen-based reality show.
The foursome's trip is indeed fun, but also turns out to be dangerous as well. Luckily, help is on hand along the way in the form of a nomad family, a shepherd, a motorcycle club, and a TV producer's assistant.
The film is in fact inspired by a true story. In 2010, a group of nine Tibetan children sang on the stage of the reality show China's Got Talent, which was broadcast nationwide.
Aged 10 to 13, all of them were students from the school for blind children in Lhasa, earning a rousing applause from the four judges and studio audience alike with their pure and youthful voices.
Ballad From Tibet has won the award for Best Children's Feature at the 13th China International Children's Film Festival in November 2017, and earned nominations at 17 different international children's film festivals in Germany, Canada, Japan, Greece, Australia and India.