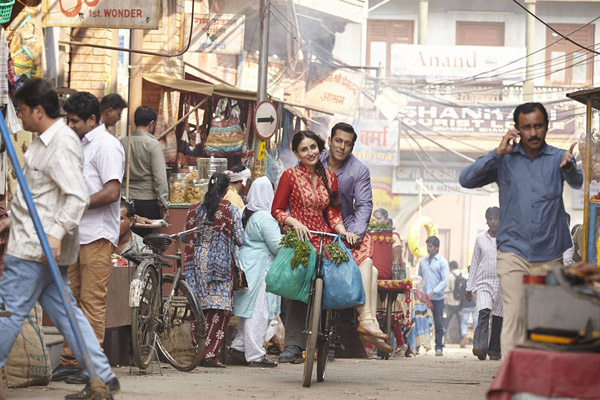 Indian film Bajrangi Bhaijaan, starring Salman Khan and actress Kareena Kapoor, has earned more than 80 million yuan since its release in Chinese cinemas. [Photo provided to China Daily]
With the recent release of Bajrangi Bhaijaan, one more 'Khan' from Bollywood is starting to make waves on China's big screens. Li Yingxue reports.
Bollywood, as India's Hindi film industry is referred to, has "three Khans", who are among its most successful movie stars.
Besides Aamir Khan, who is well known in China for his films like 3 Idiots, PK, Dangal and Secret Superstar, there are Shah Rukh Khan and Salman Khan-who is now seeking to develop a fan base in China.
Salman Khan's 2015 movie, Bajrangi Bhaijaan was released in Chinese cinemas on March 2.
The movie is about Bajrangi, an ardent devotee of the Hindu deity Hanuman, who attempts to take a 6-year-old Pakistani Muslim girl home after she gets lost in India.
In the film, Salman Khan plays Bajrangi, who is kind and stubborn.
The film, which was well received by Indian audiences, earned $67.5 million at the box office in the country.
It has earned more than 80 million yuan (about $13 million) since its release in Chinese cinemas.
Kabir Khan, director of the film, says Salman Khan was his first choice for the role.
In the movie, Bajrangi takes a long journey to take the little girl back to Pakistan, and his behavior touches people from both countries.