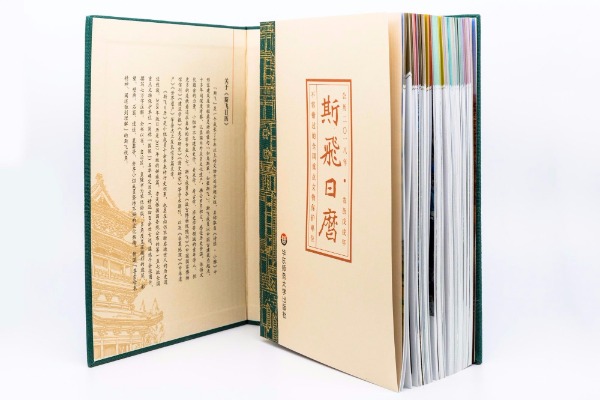 The 2018 Sifei Calendar.[Photo provided to China Daily]
A group of history buffs have found a significant way of marking the new year. They make calendars that focus on the country's national-level relics. Wang Kaihao reports.
Every new year, various kinds of calendars with creative designs are on offer.
The Sifei Calendar is one of a kind: Each page has pictures and details of one or more significant historical relics.
However, it does not come from any established publisher or academic research institute. The Sifei Calendar for 2018 was released recently-its second year-thanks to a group of history buffs who are referred to as the Sifei Group.
The name of the group comes from ru hui si fei, a line from the Classic of Poetry, the oldest existing collection of Chinese poetry dating from the 11th to 7th centuries BC.
The line describes the eaves of a magnificent palace that look like flying birds.
Speaking about the calendar, Zhang Liwei, 38, the initiator of Sifei Group, says he finds it meaningful to use it to promote the beauty of Chinese architecture to the wider public.
"It's also a good way to introduce new ideas to tourists," he explains.
"They (tourists) often want to look at historical relics but know very little, or don't know where to start."
With regard to the group, he says there are about 50 core members nationwide.
They first got to know each other through blogs around 2007.
Now, they operate several discussion groups on WeChat, involving more than 1,000 people, and a public account.