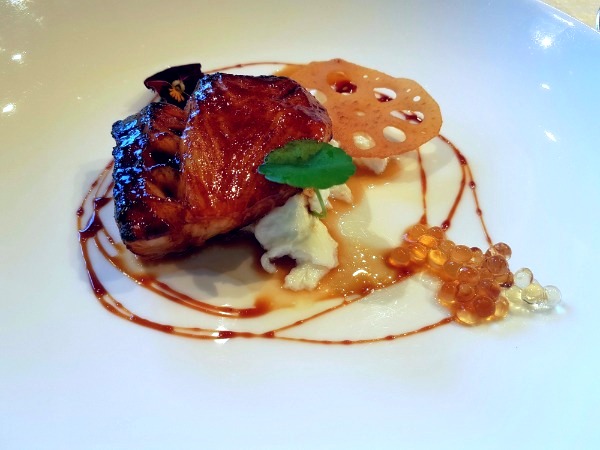 The grilled perch served on sauteed egg white with balsamic pearls is another modern creation of chef Ma Haocheng infused with the flavors of Shanghai. [Photo provided to China Daily]
Shanghai as a young city in an ancient empire boasting 5,000 years of history and a culinary culture, is doing a fabulous job of maintaining a distinctive flavor of its own. Having made a splendid turn in remodeling itself from China's colonial gateway into a world-class metropolis, Shanghai cuisine is also experiencing a renaissance that has seen its traditionally rustic fare transform into a cuisine of fine dining.
Taking a lead in this dining trend is chef Ma Haocheng, master chef of Dragon Phoenix at the Fairmont Peace Hotel, a historically rich Shanghai institution that has also made the crossover from quaintly colonial to resplendently modish. After three years in his current position, chef Ma has created a fine dining menu that reflects a confluence of old tastes and new refinements.
The youngest of the main styles of cookery in China, Shanghai cuisine - also known as benbang (local) cuisine - borrowed heavily from the regional flavors of Jiangsu and Zhejiang provinces before evolving into a branch known for its penchant for "thick oil and red sauce", resulting in dishes that are both robust and appetizing, if not slightly overpowering on occasion. According to Ma, in order to appeal to the greater market within metropolitan Shanghai, old recipes need to be updated for the modern palate.
"In the past, benbang cuisine was more rustic in outlook with a preference for stronger tastes and flavors, as reflected in our love for pickled food," Ma says. "For a fine dining restaurant where the clientele is more discerning about presentation and nutritional value, we need to refine the essence of these dishes and amalgamate them with new ingredients to present them with artistic touches that please the eyes as well. Like people, cuisine also moves with the times."