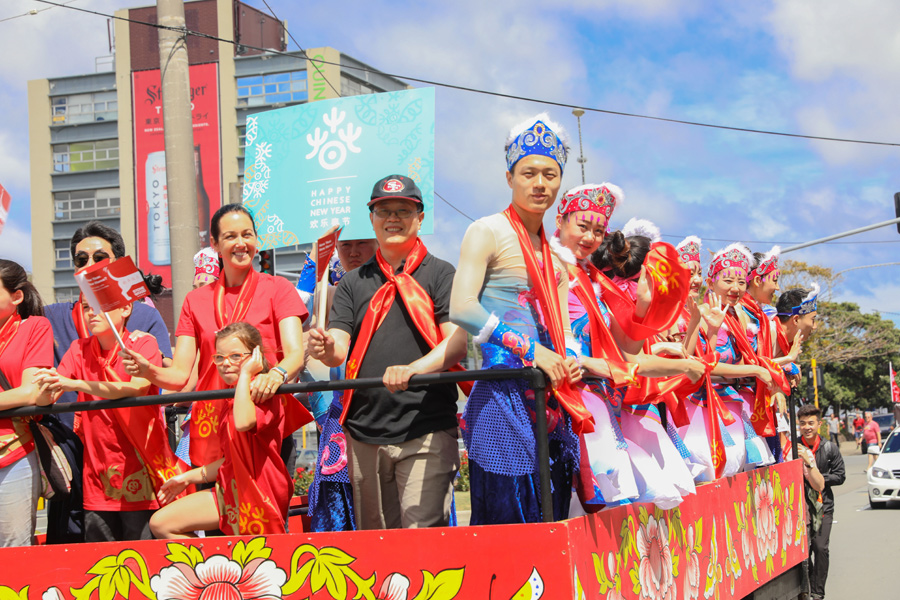 Guo Zongguang, director of the China Cultural Center in New Zealand and Jill Day, deputy mayor of Wellington, are on the first float of the "Happy Chinese New Year" parade in Wellington on Feb 17, 2018. [Photo/Chinaculture.org]
With sponsorship from the China Cultural Center in New Zealand and The Asia Foundation, a huge Chinese Lunar New Year Festival kicked off at Michael Fowler Center in Wellington on Feb 17. Wellington's local Chinese community turned out en masse, alongside plenty of other people to usher in the Year of the Dog.
As the most anticipated annual event, held for 17 years running in the city, this year's celebration themed "East Meets West" featured a temple fair, a street parade and a Spring Festival evening gala.
At the temple fair, six intangible cultural heritages including Bohai Mohe silk embroidery, Weifang kites and woodblock-printed New Year paintings were on display. The six intangible cultural heritage inheritors also performed their craft to give locals an authentic taste of Chinese New Year customs.