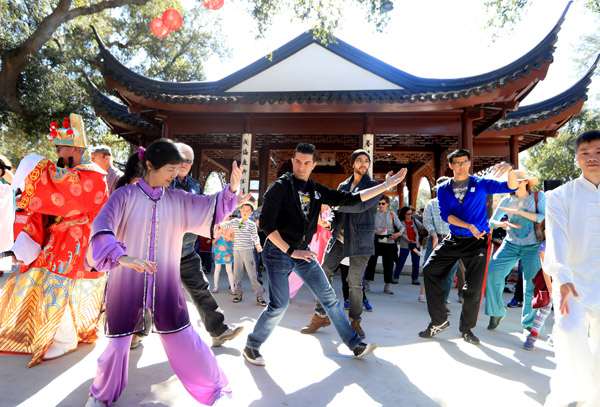 Thousands of Americans visit Huntington Library's botanical gardens in Los Angeles to enjoy the exciting activities of the famed cultural institution's Chinese New Year Festival. [Photo/Xinhua]
Capacity crowds flock to Los Angeles landmark to catch colorful lion dances and musical performances
LOS ANGELES - The lush, flower-filled gardens, exotic Chinese pavilions and spacious performance areas of the Huntington Library, Art Collections and Botanical Gardens located in Los Angeles County, California, were packed last weekend with thousands of American visitors and tourists from other lands who all came to enjoy the exciting activities of the famed cultural institution's Chinese New Year Festival.
Friends, couples and families - many with kids in tow and toddlers in strollers - had smiles on their faces as they flocked to see the exotic lion dancers, the mask-changing magician, or learn the steps of an ancient Tai Chi kata, or put brush to paper to try their hand at the art form of Chinese calligraphy.
Gail Weiss, a local Pasadena resident, told Xinhua last Sunday she came because, "Chinese culture is one of the most ancient living cultures in the world. I love coming to this festival to learn more about it."
Lisa Blackburn, senior editor and special projects manager at the Huntington told Xinhua: "We started the Chinese New Year Festival in 2005. It's now our largest weekend of the year. We drew 8,000 visitors on Saturday and likely the same amount on Sunday."