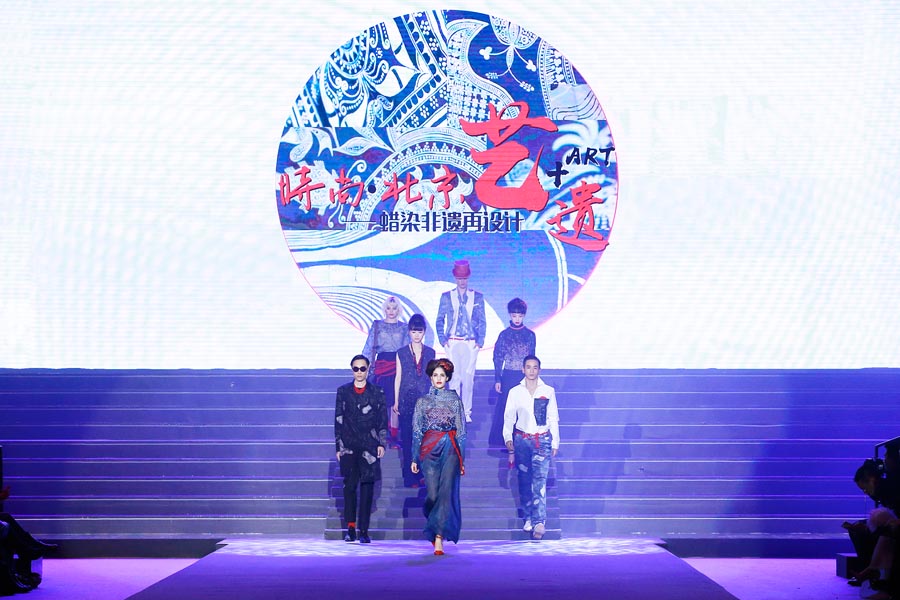 A show of batik clothes that combine modern design and traditional craft. [Photo provided to China Daily]
"Humans are always traveling, trading and exchanging thoughts," says a voice in the background as a fashion show called the Night of Fashion Beijing starts at the Beijing Exhibition Center.
At the recent event based on the Silk Road, clothes from brands such Heaven Gaia, Zeng Fengfei, Nuoyi, Chu Yan, Hu Sheguang and Irakli Nasidze are showcased.
Nasidze, the Georgian fashion designer, is showing his clothes in Beijing for the first time.
Gaia Heaven, which was created by designer Xiong Ying, starts the show with a collection inspired by the four famous beauties of ancient China - Xishi, Diaochan, Yang Yuhuan and Wang Zhaojun.
Qin Wanyu, the creator of the brand Nuoyi, has been designing knitwear for around 15 years. For the show, she has a collection Dream Back to Rome that emphasizes the beauty of different types of lines.
Qin says that her brand is for independent women who are both simple and gracious, soft and full of energy, and who long for freedom.