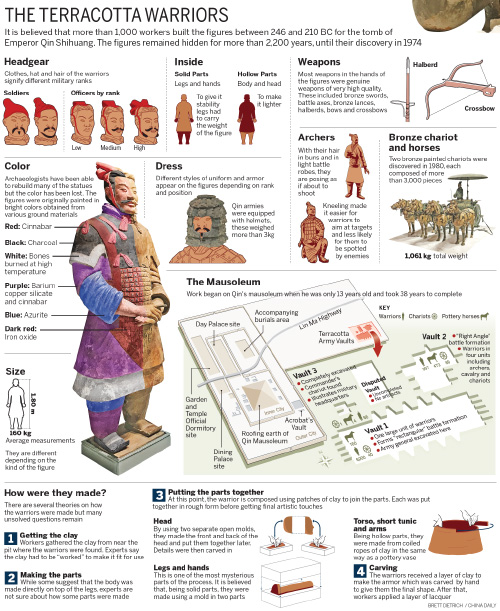 The Terracotta Warriors. [Brett Dietrich/China Daily]
Relics from an emperor's world 2,200 years ago now appear in a UK museum. Bo Leung reports in London.
Holding an exhibition that features genuine Terracotta Warriors is, as you might expect, far from a straightforward process. A museum in the British city of Liverpool has become the latest institution to find out just how complicated it is to ship priceless and fragile ancient artifacts half way around the world, after having been loaned some of the famous figures from China.
Curators from National Museums Liverpool and a team from the Shaanxi Cultural Heritage Center worked together on the project to bring 10 2,200-year-old clay figures to Liverpool, including a terracotta cavalry horse and more than 180 smaller artifacts. They traveled all the way from Xi'an, Northwest China's Shaanxi province.
The move followed years of preparations and planning by both parties before the relics could leave home.
The preparations to transport cultural relics overseas for such an exhibition usually begin at least three years before the show is set to open, according to the Shaanxi Cultural Heritage Promotion Center.
"It took a long time negotiating the details of the exhibition. We started talking to colleagues in China at the end of 2015," says Fiona Philpott, director of exhibitions at National Museums Liverpool. "We made more than six trips to China."
Philpott says she gave her Chinese counterparts a request detailing the items the museum in Liverpool was interested in displaying, which then needed approval from China's State Administration of Cultural Heritage.
Back and forth discussions meant there were many changes to the original plans. Sometimes, a specific object could not be loaned out because it was already on loan to another museum.
Once the plan was approved, experts from Liverpool traveled to China to examine the relics.
"We sent our own curators out to China in early January for last checks," Philpott says. "It is a remarkable achievement that the material can travel more than 5,000 miles between continents so well. That's really all credit to the skill of the staff who pack and prepare this material for transport."