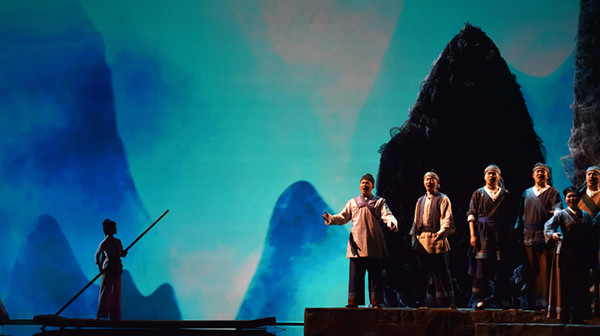 The stage recreates the picturesque scenery of Guilin. [Photo by Tang Yanlan/chinadaily.com.cn]
Liu Sanjie, a legendary singer of the Zhuang ethnic group reputed for singing antiphonal songs, was celebrated in an all-new theatrical interpretation of her lifelong story in front of some 1,500 spectators at the Guilin Grand Theater on Feb 10.
The film Liu Sanjie was already a classic and a household name in China. It was the first and most influential musical scenic film, which integrated diversified folk song elements and picturesque landscapes of Guilin, Southwest China's Guangxi Zhuang autonomous region.
It has been 60 years since the film was shot and the changes over time have been deeply engraved on society and the people. The China National Opera & Dance Drama Theatre has joined hands with the Bureau of Culture, Press, Publication, Radio, Film and Television of Guilin to retell the story and blend it with what time has given us.
Instead of a simple retelling, the play is about how to inherit cultural treasures and dress them in contemporary apparel by using changes in background music and artistic expressions. Integration of modern acoustic, lighting and electricity technologies also further enhances the visual impact, said Tao Cheng, chief of the China National Opera & Dance Drama Theatre.