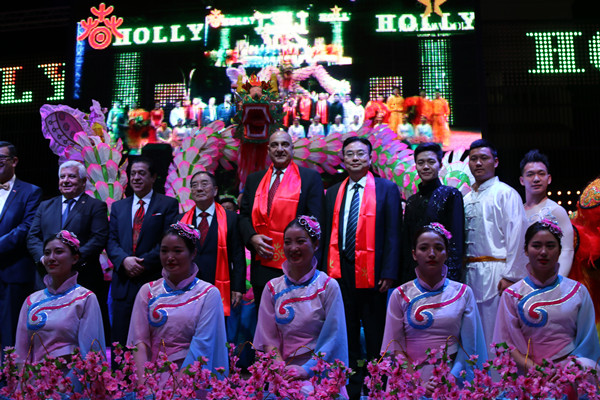 Officials from China and Egypt pose with performers for a group photo in Sharm EI Sheikh, Egypt on Feb 9. [Photo by Gan Hongwei]
A group of artists from East China's Zhejiang gave traditional performances at the opening ceremony of the 2018 Happy Chinese New Year Temple Fair in Sharm EI Sheikh, a center for tourism in Egypt, on Feb 9.
Hosted by China's Ministry of Culture, the Embassy of the People's Republic of China in the Arab Republic of Egypt, and Egypt's South Sinai Governorate, and organized by the Zhejiang Department of Culture and the China Cultural Center in Cairo, the temple fair is part of the country's global Happy Chinese New Year event, which aims to bring the festivities of Spring Festival to the rest of the world.
The art troupe from Zhejiang, made up of the Changxing dragon dance team and the Hangzhou acrobatics troupe, staged an elaborate show at the fair's opening ceremony consisting of Chinese songs, folk dances, magic shows, and acrobatics.
In the course of the two-hour show, the Egyptian audience was fascinated by exotic martial arts, opera performances, and graceful folk music from Jiangnan (the region south of the Yangtze River).
In addition to the main show, eight artisans demonstrated some of Zhejiang's intangible cultural heritages such as celadon and tree root sculptures, which received much praise from the Egyptians.
The temple fair in Egypt will run until Feb 13.
The annual Happy Chinese New Year event, initiated in 2010, has been effective in promoting the Chinese Spring Festival worldwide and has offered the outside world a glimpse into Chinese culture. Zhejiang province, with its abundant cultural resources, is an active player in national cultural exchange activities.