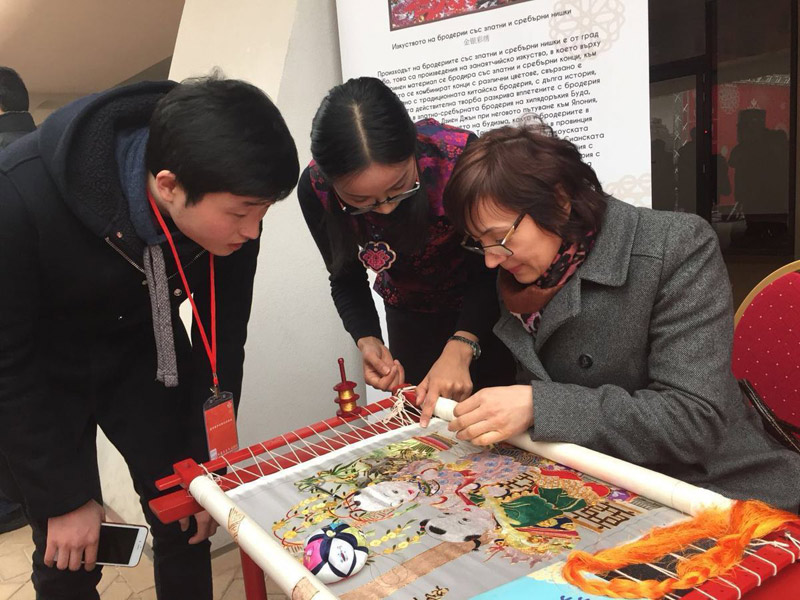 A local tries embroidery at the event. [Photo provided to China Daily]
Hands-on experiences such as weavings with palm fibers, tying Chinese knots, paper-cutting, making masks and embroidery with gold and silver threads were offered at the event. The art of traditional culture left many in awe, and even more for those who tried their hands at the craft and brought good wishes from China to their homes. A series of photos featuring the Chinese Spring Festival were also shown at the event.
The merry spirit of China's ancient festival has enlightened and added new vitality to the archaeological complex in Sofia. "It's as if I were spending the Spring Festival in China," said Ina, a local who has studied in China.
The Serdica archaeological complex is a collection of streets and architectural relics from the ancient Roman times ranging from the fourth to the six century. The complex, covering 9,000 square kilometers, officially opened to the public in April 2016. The complex includes eight streets and a church from earlier times, and is adjacent to the presidential palace and the parliament building.
During this "Happy Chinese New Year" period, the Sofia China Cultural Center and the municipal government of Sophia will sign several memoranda of understanding to broaden the platform of bilateral cooperation.