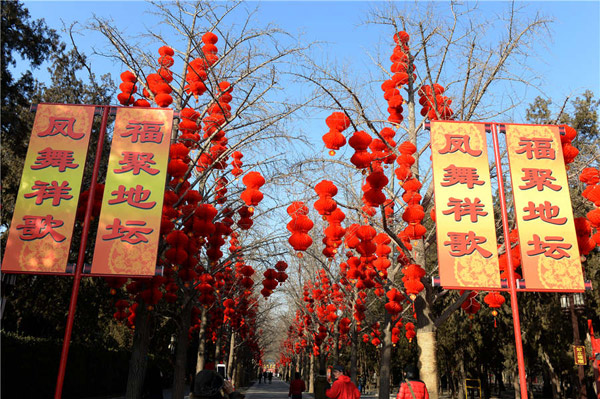 Red lanterns have been hung up for the New Year temple fair at Ditan Park in Beijing, Feb 4, 2018. [Photo by Hu Qingming/Asianewsphoto]
The temple fair is the most distinctive folk activity during Spring Festival in Beijing. Most temple fairs offer cultural performances, traditional arts and crafts, games and local snacks.
Chinese can recall childhood memories and see vanishing handicrafts at the temple fair, while for foreigners, a temple fair will be the best chance to experience authentic folk culture and enjoy the unique craftsmanship of folk artisans.
This year, a variety of temple fairs will be staged in Beijing during the upcoming Chinese New Year, and we have selected some to guide you through the festival.
1. Ditan Temple Fair
Date: 8:30-17:00, Feb 16-20
Location: Ditan Park, Andingmenwai Avenue, Dongcheng district
Admission: 10 yuan
The temple fair at Ditan (Temple of Earth) Park will include reenactments of the traditional Qing Dynasty (1644-1911) ceremony to worship the God of Earth, a folk flower fair, singing and dancing performances, Tianjin folk art and Hebei acrobatics, as well as picture exhibitions and folk-custom experience activities.
Intangible cultural heritage items and flavored snacks from around the country also will be showcased during the temple fair, such as the Beijing clay rabbit, Shaanxi shadow puppet, Tianjin fried dough twist and Shandong pancake.
2. Longtan Temple Fair
Date: 8:30-17:00, Feb 16-20
Location: Longtan Park, 8 Longtanhu Road, Dongcheng district
Admission: 10 yuan
The Longtan Temple Fair made a breakthrough in terms of its ice and snow landscape and winter sports, and has forged a 30,000-square meter ice and snow theme park. Visitors can experience riding an ice bicycle and other activities. Traditional folk art showcase also can be seen during the fair.