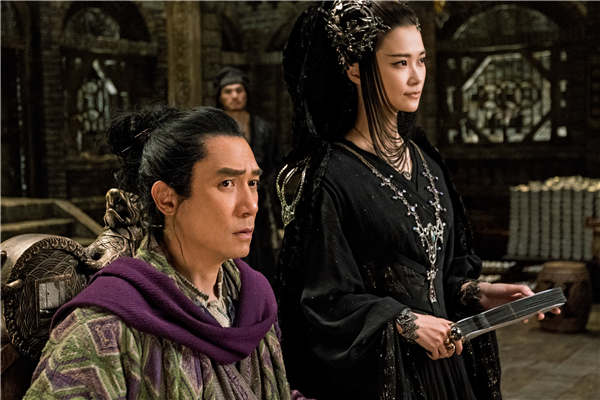 Monster Hunt 2 stars Hong Kong veteran Tony Leung and singer-actress Li Yuchun. [Photo provided to China Daily]
Six films on the mainland are in the race for glory at the box office during the upcoming Spring Festival holidays. Xu Fan reports.
With the Chinese Lunar New Year holiday break around the corner, a number of films are set to hit the big screen on the mainland.
The latest online ticket-sales figures from the box-office tracker Maoyan show that the six titles set to open on the first day of Spring Festival, which falls on Feb 16, have already brought in 240 million yuan ($38 million) for that day.
Meanwhile, according to the China Film Distribution and Exhibition Association, nine movies-with three being released on Feb 16, 17 and 20-will be unveiled during the holiday period, which will run through Feb 22.
Significantly, the six titles being released on Feb 16-Monster Hunt 2, Detective Chinatown 2, The Monkey 3, Operation Red Sea, Boonie Bears: The Big Shrink and The Face of My Gene-kicked off advance sales online around one month ahead their release dates.
This is much earlier than previous Spring Festival releases.
Yu Chao, deputy general manager of Capital Cinema, which has been around since the 1940s, says that, in previous years, ticket sales began around two weeks before.
"This year, Chinese audiences will have more options," Yu says. "As Spring Festival holidays often create new records, the season is significant to collectively demonstrate the skills of domestic filmmakers."
Besides, the rapid expansion of the Chinese movie market-which now has more than 50,000 screens-has made the cinema a major entertainment option during the festival which reunites families, he says.
The most popular film, going by the sales figures, is Monster Hunt 2. The comedy sequel of the 2015 smash hit Monster Hunt has brought in 116 million yuan, or nearly 50 percent, of the revenue on the first day of the Year of the Dog, thanks possibly to its family-friendly features like its cute animated monsters.