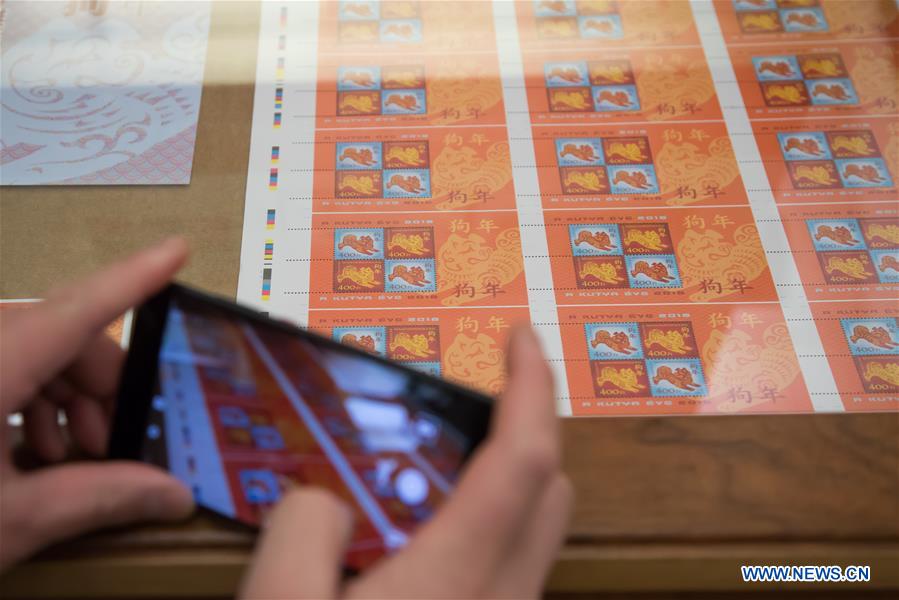 A guest takes pictures of the zodiac stamp in the honor of the Year of the Dog at the Hungarian Stamp Museum in Budapest, Hungary on Feb 6, 2018. [Photo/Xinhua]
The special zodiac stamp issued by the Hungarian Post in the honor of the Chinese Year of the Dog was presented to the public in the Hungarian Stamp Museum here on Tuesday.
The stamp with the motif of a dog in red and gold is available from Tuesday. It is the fifth edition of a Hungarian stamp commemorating the Chinese New Year since the first was issued in 2014, the Year of the Horse.
Besides the inauguration ceremony of the special Year of Dog stamp, a special exhibition of the zodiac stamps available worldwide was staged in the Stamp Museum.
"The issue of this year's special stamp represents the good friendship between China and Hungary, as well as the interest of the Hungarian people towards the culture of China," Chinese Ambassador Duan Jielong said in his speech.
Zoltan Illes, Chairman and CEO of the Hungarian Post, recalled the relations with China in history, which can be dated back to over 700 years ago, and the diplomatic ties between China and Hungary, which are now nearly 70 years old.
"The stamps reflect the cultural, social and historical condition of a country, and they do so with dignity," he underlined.
The Year of the Dog begins on Feb 16, according to the Chinese lunar calendar.