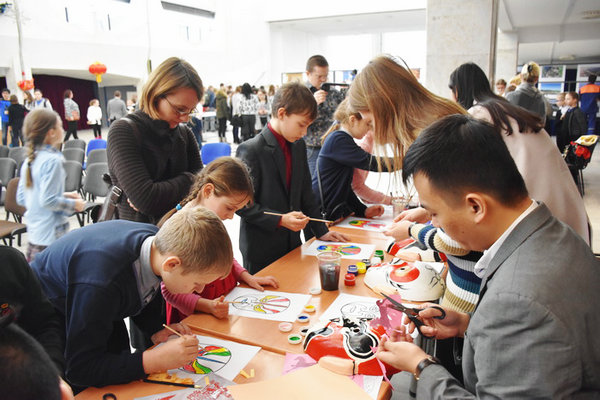 Belarusian children try facial mask painting of Peking Opera at the 2018 Happy Chinese New Year temple fair in Minsk on Feb 1, 2018. [Photo/Chinaculture.org]
According to the State Council Information Office of China, 2018 Happy Chinese New Year celebrations have launched in many countries around the world.
Organized by the Ministry of Culture of China, the celebrations in 20 categories -- including temple fairs, art performances and exhibitions -- will be held this year in nearly 400 cities across more than 130 countries. Among the countries and regions, 53 are involved in the Belt and Road Initiative.
Yang Zhijin, deputy cultural minister, said the Happy Chinese New Year will feature a series of high-quality cultural products and activities with strong Chinese features. As the event is becoming more localized and market-oriented, it will be a flagship celebration that conveys the value of the community of shared human destiny.
Yang introduced the special features and main activities of the 2018 Happy Chinese New Year celebrations in different regions. Those in Asian countries will highlight family relations, while others will focus on presenting traditional Chinese culture in multiple ways.
The deputy cultural minister said the 2018 Happy Chinese New Year will more centered on "integration". The event will blend both Chinese traditions and modern spirit in its activities and sharing with other nations. It will also engage more public cultural institutes, communities and schools with the participation of artists from many provinces in China. Meanwhile, Happy Chinese New Year will bring many cultural enterprises to the international stage, as it has become an impressive Chinese brand after 10 years of development.