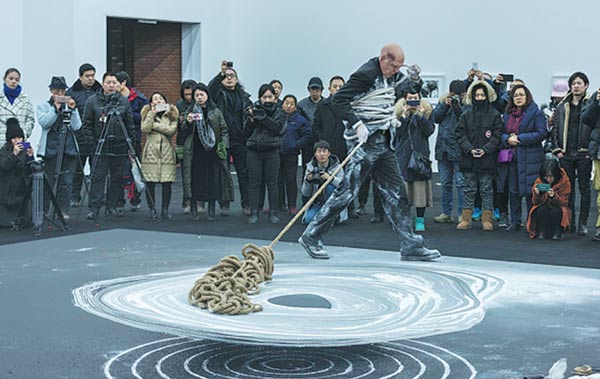 Bound in ropes, British performance artist Nigel Rolfe appears at his first solo show in China held at the Red Brick Art Museum in Beijing. [Photo provided to China Daily]
When asked why he is fascinated with setting fire to chairs during live performances, leading British performance artist Nigel Rolfe said in all seriousness that he has hated chairs after being injured by one several years ago.
He set two chairs ablaze last week in Beijing-a child's high chair and a traditional wooden Chinese one-as part of his first solo show in China held at the Red Brick Art Museum.
The show looked back at the artistic practices of Rolfe's most important works of performance art through site-specific photos and videos recording.
In fact, the hard-working artist staged four pieces of performance art during his short stay in Beijing. The performance for his opening show on Jan 31 attracted hundreds of visitors. Bound in ropes, Rolfe blew off clouds of colored powder around his head to create billowing clouds floating in the air, a common theme seen in many of his works.
"It's all about resistance. I'm a body artist. I love to touch everything and get close to the materials I use in my art," says Rolfe, 68, who began putting on physical art shows in 1969 before the term "performance art" had even been invented.
He sees his body as "sculpture in motion" and a painting tool to interact directly with elements such as water, fire, air, earth and other raw materials like flour and wood to reveal the fragility of life by challenging his limits.
Jonas Stampe, curator of the show and a longtime friend of Rolfe, says the artist's choice of materials often bear symbolic meanings. For instance, the chair represents authority and power. Even simple actions like standing, falling, walking and even breathing take on new meaning.
"To experience a live-action sequence by Rolfe is to live in a unique moment. He seizes the moment in movements and stillness, inventing sensible images of beauty and meaning," adds Stampe.
The exhibition is entitled The Time Is Now, echoing the artist's concept of what makes good performance art.
"It is happening right now, right before your eyes, and you witness it", he says, stressing the importance of audience engagement.
His audiences at his shows provide constant feedback to let him know if he is on track, and the sounds of clicks and flashes from hundreds of cameras show Rolfe that he has everyone's attention. But this doesn't necessarily mean that everyone understands his performances. During one performance three years ago, he stood motionless on a snowy street in a Swedish city for six hours. A man drove past him and then returned, shocked by his stillness, repeatedly asking him what he was doing.