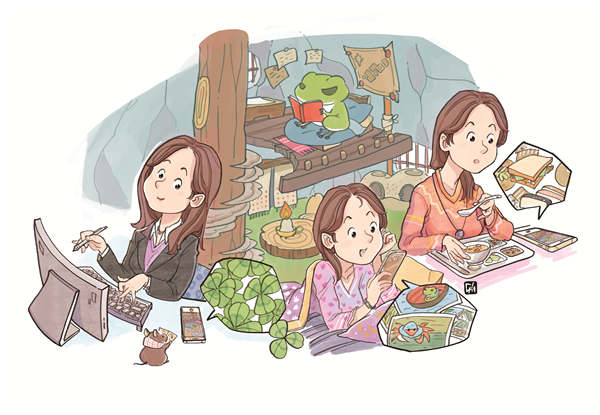 CAI MENG/CHINA DAILY
A mobile game about an amphibian's wanderlust has become wildly popular among young Chinese. Xu Lin reports.
Zhou Xiaoli stares into her phone's screen and gently tells the frog it's bedtime.
"How long have you been reading this book?" she asks the amphibian.
"It's time to sleep."
Soon, Zhou's mother enters the room.
Mom, in turn, tells the girl "it's time to sleep".
The frog is a digital character from the Japanese mobile game Tabi Kaeru, or Travel Frog.
The game has been extremely popular among young Chinese, drawing comparisons to the sensational Pokemon Go and Tamagotchi phenomena of previous years.
"It's so much fun that I rush to put my frog to bed when my mom does the same to me," says the 28-year-old, who works in a foreign company in Beijing.
"It makes me feel like a mother, myself."
The game was released by Hit-Point Co Ltd, which also produced Neko Atsume:
Kitty Collector, a mobile game that became popular in China and the West in 2015.
Nearly 3.35 million Chinese had Travel Frog on their phones between Jan 10 and Jan 22, data company Jiguang.cn reports. It was downloaded 402,000 times in China on Jan 22 alone.
The frog is anthropomorphized.
He carries luggage as he tours Japan and snaps photos of scenic spots such as hot springs and brings back local delicacies like strawberries and milk.
Players collect clovers that serve as currency to buy food, camping supplies and magical amulets for the frog. They can wait for new clovers to grow or purchase them for between 6 yuan and 25 yuan (95 US cents and $3.95).
Zhou spent 50 yuan to purchase all the gear. So, her frog can experience more adventures, such as boating in a bowl. Zhou doesn't typically play games but fell for Travel Frog instantly.
The frog sometimes hangs out at home, reading, eating or making wooden handicrafts. Players never know when he'll set out again.
He may travel for a few hours or for up to four days. Gamers can only wait and pack his luggage. The only clues they have about his trips are the photos he sends from the road.