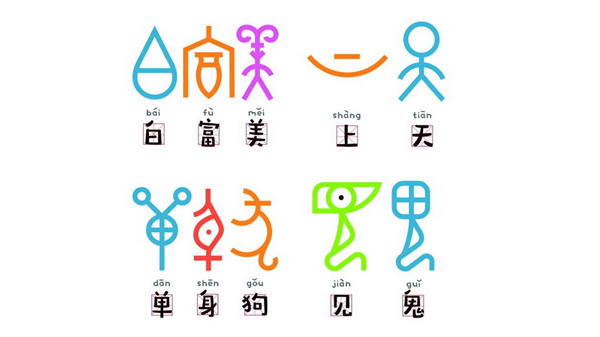 [Photo/Sina Weibo]
Chinese oracle bone inscriptions have been included on the UNESCO Memory of the World Register ever since last November, according to the UNESCO website. The Chinese oracle bone inscriptions are springing up as a new cultural hot spot in China.
Recently, a series of stickers for smartphone inspired with ancient Chinese oracle bone inscriptions named "The oracle bones have expressions" became the "new favorite" of Chinese social media users. These profound traditional cultural symbols now have produced a series of popularity buzzwords such as "Single dog" and "goddess".
Its creator Chen Nan, a doctoral tutor with his team from Academy of Art and Design of Tsinghua University have been working on creating typeface and other cultural products with ancient Chinese characters and oracle inscriptions for two years.