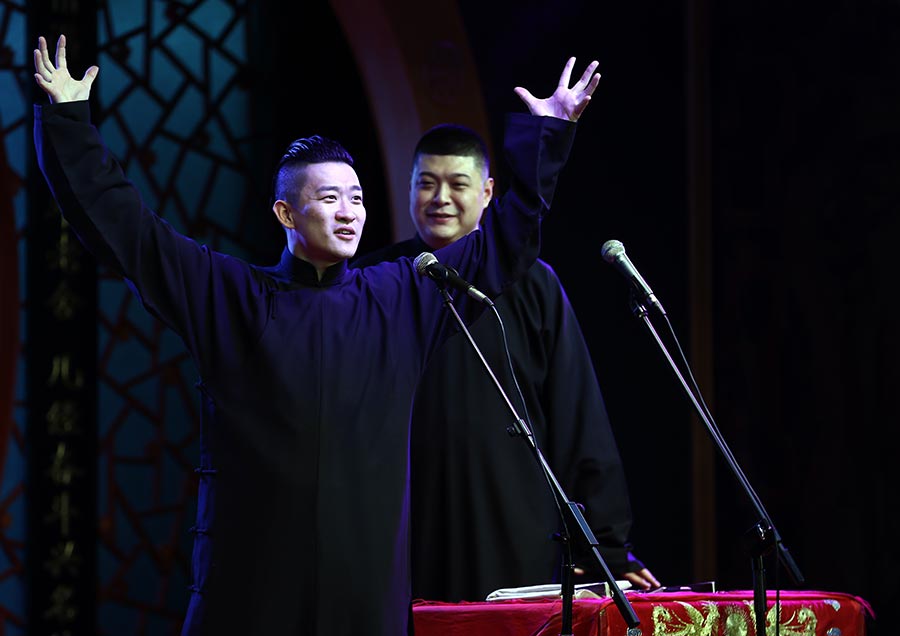 Cross-talk actor Cao Yunjin (left) and fellow performers from the Tingyunxuan troupe, all clad in long robes, put on traditional xiangsheng performances with an added youthful twist at the Laoshe Teahouse in Beijing on Jan 21.
When Cao Yunjin walks into a room on the third floor of Laoshe Teahouse, a popular site for showcasing traditional local arts of Beijing, his sunglasses, chic haircut and sharp suit are in stark contrast with his surroundings, which feature old photos, traditional Chinese furniture and ink paintings.
The 32-year-old Cao is a comedian, who is known for practicing the traditional Chinese art form, called xiangsheng, or cross-talk.
At the same time, more than 200 people are gathering in the small theater downstairs waiting for a show by the comedians from the Tingyunxuan troupe to start. Cao is the last performer.
At 3 pm, the show starts. While munching on sunflower seeds and sipping tea, the audience laugh and cheer at the performance.
When Cao, along with his longtime partner Liu Yuntian, appears onstage in traditional long robes, which xiangsheng actors wear, the crowds burst into applause and some even call out to Cao.
Tingyunxuan is a troupe Cao founded in 2010.