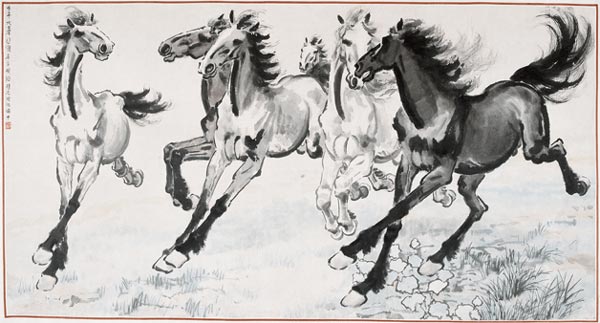 Painting of Xu Beihong to be shown at the National Art Museum of China in Beijing. [Photo/namoc.org]
To greet the Year of the Dog, the National Art Museum has organized a comprehensive show of modern China's painting master Xu Beihong.
Starting this Thursday, visitors will be able to see over 100 pieces of Xu's painting, both oil works and ink and wash, which showcase the painter's artistic evolvement.
Xu is very good at portraying birds and animals. He decided to integrate Western techniques with traditional Chinese art, which exerted a big influence on contemporary Chinese artists.
After the founding of the People's Republic of China, Xu was appointed as the president of Central Academy of Fine Arts, the top arts school in China.
If you go:
9:00 am and 5:30 pm, Jan 25 to Mar 4. 1 Wusi Avenue, Dongcheng district, Beijing. 010-6403-4951.
Entrance: Free.