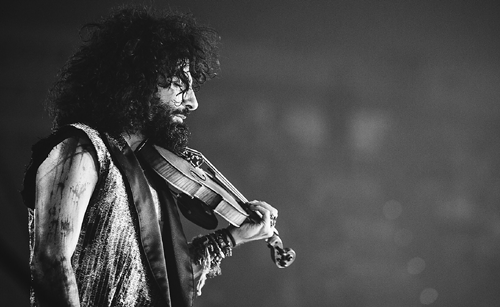 Ara Malikian plays the violin around the globe, and will make his debut in China with a recital in Beijing on Jan 21.[Photo provided to China Daily]
Ara Malikian, a musician of Armenian descent, reveals how the instrument has played a key role in his family's history over the generations
Between 1915 and 1918, many Christian Armenians were killed but one young man survived thanks to a violin. He didn't know how to use it, but thanks to that instrument, which was given by a friend, he could pretend to be part of an ensemble that was going on tour and therefore he escaped to Lebanon.
More than a century later, the young man's grandson, Ara Malikian, plays the violin around the globe and will make his debut in China with a recital in Beijing on Jan 21.
"Music and the violin mean a lot to our family. Music was our way of surviving. I discovered the story of violin only 10 years ago. My father told me the story and my dream was to pay a tribute to this violin to music and to my family," says the violinist, Malikian, 49, ahead of his trip.
Besides the capital, the violinist will perform in Xi'an, Shaanxi province, Shanghai and Chengdu, Sichuan province.
The tour in China is a part of Malikian's tour, The Incredible Tour of Violin, which he began a year ago.
He says that the audiences can expect the show to be a musical journey "from Bach, Mozart and Paganini to Jimmy Hendrix, Radiohead and David Bowie" as well as many his compositions.
"I have always been interested in trying out music of different styles and different cultures, and trying to adapt them for violin with my own way and personality," says Malikian.
Malikian, who was born in Beirut, the capital of Lebanon, started playing the violin at 5 under the guidance of his violinist father.
His talent was quickly recognized as he first performed publicly at 12. At 14, with the help of German orchestra director Hans Herbert-Joris, Malikian was offered a scholarship by German government to study at Hanover University of Music, Drama and Media, making him the youngest student at the prestigious school. Later, he continued his studies at the Guildhall School of Music & Drama in London.
Malikian, along with his family, was forced to leave Lebanon in the 1970s for Europe because of the Lebanese civil war.
The violinist, who now lives in Madrid, attributes his original and innovative sound to his two sisters, who both loved rock music and inspired him to try out new music styles from a young age. His sisters played piano from childhood but had to give up due to the war.
In 2015, he released his last album, 15, a concert recorded at the Royal Theater of Madrid to celebrate his 15 years living in Spain.
"Spain inspired me a lot, both personally and professionally. In Spain, I discovered flamenco music and met many great Latin American musicians. I also had the chance to experience in Spain a wide range of music - from classical symphonic orchestral music up to jazz rock and world music," he says.
Now, with more than 20 albums released, Malikian performs more than 450 concerts in 40 countries around the world every year.
In September 2015, he performed with the State Youth Orchestra of Armenia, under the baton of maestro Sergey Smbatyan in Madrid.
Speaking about Malikian, Smbatyan says: "We are always looking for Armenians in other nations but we forget that we have real Armenian heroes that affect the formation of the image of Armenia abroad."
Besides his music, Malikian participates in projects, which aim to improve the life of the most disadvantaged people, especially when it comes to kids.
In 2016, Malikian toured refugee camps and played for Syrian children.
With many of the children hearing the violin for the first time, Malikian shares with the children how the violin helped him when he was a refugee like them.
If you go
Ara Malikian
7:30 pm, Jan 21. Theater of Beijing Exhibition Hall, 135 Xizhimenwai Dajie, Xicheng district, Beijing. 400-610-3721