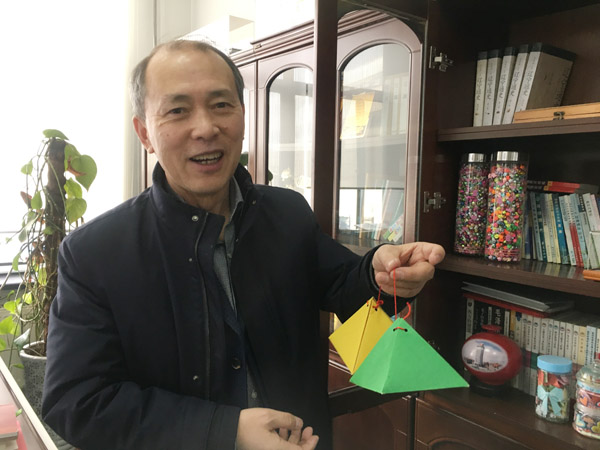 Qu Jianwu shows a handmade gift from his students. [PHOTO BY ZHANG XIAOMIN/CHINA DAILY]
As a deputy director for education in the provincial government of Liaoning, Qu Jianwu previously offered direction to dozens of colleges in this part of Northeast China.
But he gave up his high-ranking job and became an instructor at Dalian Maritime University in 2013.
From Qu's viewpoint, an instructor's role, which requires helping students with their daily lives on campus, especially their mental well-being, is very important.
In the past four years, Qu has both enlightened many students and encouraged them to do better.
On Dec 29, he was named by the publicity department of the Central Committee of the Communist Party of China as a role model that Party members and others can look up to for inspiration.
"I don't care much about power or fame. Throughout my career in the past three decades, students are all I have really cared about," says Qu, 60.
Before he retires in 2018, he says he wants to offer guidance and assistance to more than 100 students from the time they enter Dalian Maritime University up until their graduation.
His students are making progress and Qu has won their love and respect, as well as recognition from society.
Yan Peixing is one such student who felt inspired by Qu.
In 2013, Yan, then 20, came to the coastal city of Dalian from a rural area in Northwest China's Gansu province.
But his family's financial situation had caused him psychological problems. Qu "took the burden off" by talking to Yan and helping him with money.
While visiting Yan's parents in their home, Qu worried about the poor condition of the house made of adobe. He gave them 50,000 yuan ($7,670) to rebuild their house.
Under Qu's guidance, Yan also learned the value of self-worth and his responsibilities to the country.
Yan, now 25, has made up his mind to go to the Tibet autonomous region and work as an instructor after his graduation.
"I'm proud that Yan is a young man with a sense of mission. It is my job to relieve his worries," Qu says.
In the past years, Qu has gone to a dozen provinces to visit his students' families.
He has raised more than 200,000 yuan to help poor students.
"This kind of spirit is what we need the most," Zheng Shaonan, Party secretary of Dalian Maritime University, says of Qu.
Being an instructor to students has been his dream, Qu says.
"In fact, I do not care much about the name 'role model'."
Qu had started out in his work life as an instructor after graduating from Liaoning Normal University in 1982. He was promoted to administrative posts in subsequent years.
"I enjoy chasing away negative emotions and helping the students find the true meaning of life. As an instructor or an official, I always think about students the most," Qu adds.