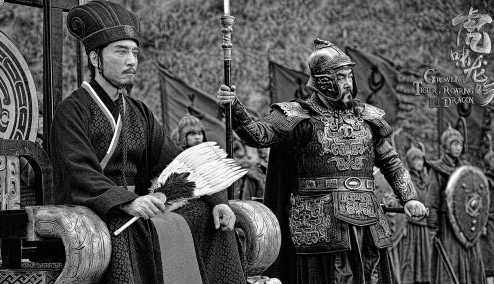 Wang Luoyong plays the role of Zhuge Liang, a famous politician and military strategist, in the internet drama Growling Tiger, Roaring Dragon. [Photo provided to China Daily]
A five-minute video clip has made an internet star of Wang Luoyong, the first Chinese actor to perform in a Broadway musical. Xu Fan reports.
Wang Luoyong, once an unknown Chinese actor who spoke poor English, has dazzled audiences on Broadway with his riveting performances in classic stage shows like Miss Saigon and Jane Eyre. But the 59-year-old actor was surprised to become an internet celebrity recently.
His celebrity status followed the uploading of a five-minute video on the Twitter-like Sina Weibo on Dec 27.
In the clip, Wang reads the English language-version of a memorial written by Zhuge Liang, a politician and military strategist in the Three Kingdoms (220-280) period, who's a household name in China.
In the memorial-one of the most famous in Chinese history-Zhuge writes to his young emperor to demonstrate his determination to unite China, which was then divided into three regimes.
But Zhuge failed to realize his dream, making him a tragic hero as well as a symbol of fidelity over centuries.
The clip is just a marketing stunt to promote the internet drama Growling Tiger, Roaring Dragon, in which Wang plays the sage Zhuge, but many netizens say they are fascinated by Wang's engaging pronunciation, which creates an atmosphere similar to that in the epic series Game of Thrones.
Speaking about the clip, Wang says: "I was first asked to read it (the English version) at a concert for (promoting) the series. But the first version was poorly translated. So, I refused and read only the Chinese original.
"But they (the promotional staff) didn't give up and later found a British professor with rich knowledge of Chinese literature to edit the copy. It's much better now. It's good to shoot such a clip, which I believe will help to spread Chinese culture and history to the West."
In just 36 hours, the clip went viral, gaining over 200 million clicks and more eyeballs for the online drama.
The latest reports by Chinese media outlets say that overseas Chinese have also fallen in love with the clip, with some of them even shooting videos to mimic Wang's recitation in languages like Korean and French.
Since the drama began its run on the Alibaba-owned streaming site Youku on Dec 7, Growling Tiger, Roaring Dragon has been watched over 2 billion times online and obtained a high score of 8.2 points out of 10 on the popular review site Douban.
The drama series, loosely based on the classical novel Romance of Three Kingdoms, chronicles the rise of Wei Kingdom politician Sima Yi (179-251) and his feud with Zhuge (181-234), his biggest rival in the hostile country of Shu.