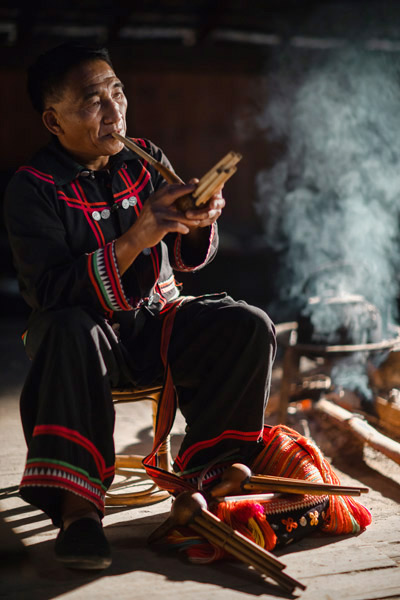 Laodabao villagers of the Lahu ethnic group are good at choral singing and playing musical instruments like the guitar and their traditional lusheng, a reed pipe wind instrument. [Photo provided to China Daily]
The forthcoming seasons of the series will focus on themes like special traditions.
Li, a student of traditional Chinese art and advertising planning grounded in Western concepts of design, is interested in representing "brilliant" Chinese traditions in a modern way to attract audiences who are keen on well-presented productions.
The Great Tribe series is not the first one that Li and his team have made.
Before founding Cicada Modern in 2015, Li worked for Hunan Satellite TV, a leading channel, for 10 years, where he was in charge of the publicity of its programs.
For many years, he was interested in studying traditional crafts like porcelain.
So, in his spare time, he would visit Jingdezhen, China's "porcelain capital" in Jiangxi province in East China, to acquaint himself with the masters there.
"I focused on the masters rather than their skills, but I learned the history of China's porcelain through books," he says.
"China has so many treasures that need digging up. And the deeper I dig, the prouder I feel. That is also my feeling when I make these documentaries," he says.
The first documentary series his team made was The Great Shokunin I, which was released online in June 2016.
It presented shokunin, a Japanese word describing assiduous craftsmen who devote their lives to perfecting their skills.
The shows featured craftsmen from around Asia, including an American Tibetan woman who spent more than 10 years on the Qinghai-Tibet Plateau organizing the local people to weave yak wool scarves in the traditional way, which were sought by luxurious brands in Paris such as Louis Vuitton and Hermes; a Tibetan thangka painter who taught people to paint thangka via live-streaming platforms on his smart phone; and the Koizumi family, who made Japanese iron kettles.
There was no theme for The Great Shokunin I, says Li, adding that with the first season they wanted to see how viewers would react to the shows, and they wanted to clear up people's misunderstandings about the lives of craftsmen.
"Many people think that craftsmen lived very hard lives, obscure and unpromising, so they need help or even donations. But in our shows they see that they live decent lives," he says.