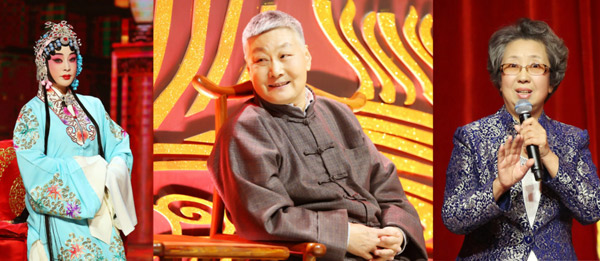 Chinese actress Liu Xiaoqing (left) makes her debut performance of Peking Opera on the TV show Legacy of China. Peking Opera actresses Pei Yanling (center) and Li Yufu (right) are two of the judges and coaches on the show. [Photo provided to China Daily]
He also says that Peking Opera is a sophisticated art form, which takes years to master. So, the celebrities also take time to be trained by masters.
The backstage scenes will be livestreamed as a way to get closer to the viewers.
"Unlike some shows that combine Peking Opera with contemporary elements, such as rock music and the visual arts, we will present Peking Opera authentically," says Cheng.
One of the judges and coaches for the TV show is Li Yufu, a 79-year-old Peking Opera actress, who joined the Mei Lanfang Peking Opera Troupe in 1959 and learned the art form from Mei Lanfang (1894-1961).
She follows Mei's performing style, which is known as the Mei School.
Commenting on the opera, she says: "It is the one art form that represents traditional Chinese culture. I don't agree with views that Peking Opera attracts only older audiences. For centuries, it has been developing."
To support her view, she cites the example of Phoenix Returning to its Nest, one of the few comedies created by Mei that premiered in Beijing in 1929.
She says that there is no bad person in the piece. It talks about Chinese-style feminine beauty and the Chinese values of family harmony.
"The younger sister, unlike her gorgeous and serious sister, is carefree and brings a lot of joy to the family. When she appears onstage, audiences often burst into laughter," says Li.
As she coaches the celebrities about Peking Opera from scratch, Li not only demonstrates performance techniques but also shares basic knowledge about the art form.
Speaking about how the TV program can help Peking Opera, Mei Wei, a great-grandson of Mei Lanfang, says: "Usually Peking Opera shows are staged in theaters. But by being shown on TV, it will reach a wider audience, which is good for the popularity of the art form."
Mei Wei learned Peking Opera from the age of 8 and now works at the Mei Lanfang Memorial Hall after graduating from Peking University with a bachelor's degree in Chinese language.
"One of the major problems with popularizing Peking Opera is that people do not have many opportunities to watch the shows. Compared with the number of cinemas in Beijing, theaters for Peking Opera are few," he says.
The Ministry of Culture in a report released in late December after a two-year nationwide survey on traditional Chinese operas, such as Peking Opera, Kunqu Opera and Yuju Opera, said there were 348 forms of traditional Chinese opera in 2015.
When this data is compared with the figures of 1999, one can see that about 60 traditional Chinese opera forms have died while many others are facing extinction.
Promoting traditional culture and boosting confidence in it were highlighted by President Xi Jinping in his report to the 19th National Congress of the Communist Party of China in October.
Echoing the need to promote traditional culture, Pei Yanling, a 70-year-old Peking Opera actress, who is one of the judges and coaches for Legacy of China, says: "Looking at the skyscrapers and the high-speed trains, you can see that the country is developing fast.
"But if the traditional art forms, like Peking Opera, die, you'll never get them back."