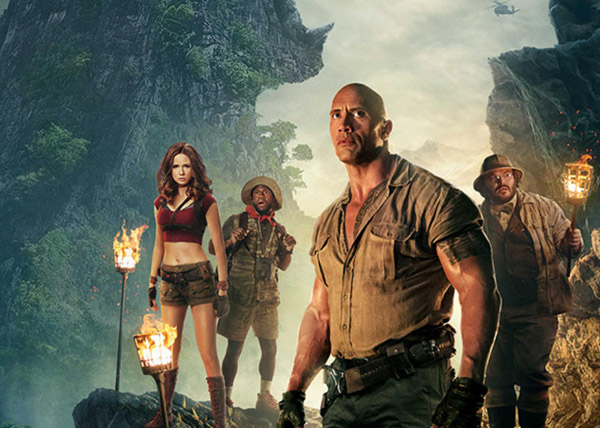 A poster for  Jumanji: Welcome to the Jungle. [Photo/Mtime]
Around 23 years ago, Robin William's film Jumanji ended on a beach, with the last scene showing the Jumanji board game half-buried in the sand.
The same box was picked up at the end of 2017 at the opening of Jumanji: Welcome to the Jungle, the second installment of the Jumanji franchise directed by Jake Kasdan.
Released in the United States in 3D on Dec 20, 2017, Jumanji: Welcome to the Jungle has collected $514 million in worldwide box office takings after a blockbuster $70 million weekend. The film will come to screens in China on Friday.
Unlike the first film in the Jumanji series that sees animals from the game enter the real world, in the new film four high school students are sucked into a jungle, the game of Jumanji, and transformed into their game avatars.
Each of the avatars has special skills and weaknesses with three lives, and the teenagers have to finish the game against the villain to escape and return to real life.
Kasdan is a huge fan of the first film and he wanted to make the new one to honor Robin Williams. "We did not want to repeat the story, so we created a new journey and added more comedy elements," he says.
Dwayne Johnson, also known as The Rock, plays Doctor Smolder Bravestone, an archaeologist and explorer, whose strengths are fearlessness, climbing, speed, boomerang-throwing and smoldering intensity.
Bravestone is the avatar of Spencer Gilpin, a nerdy gamer at Brantford High School.
In the film, Johnson plays both an insecure 16-year-old boy and a superhero.
Explaining why he chose the film, he says: "I thought the body-change role was interesting and challenging.
"I've been an actor for 17 years, but never had the chance to play a 16-year-old.
"What's more fun is that in this film all the characters are body-changing."