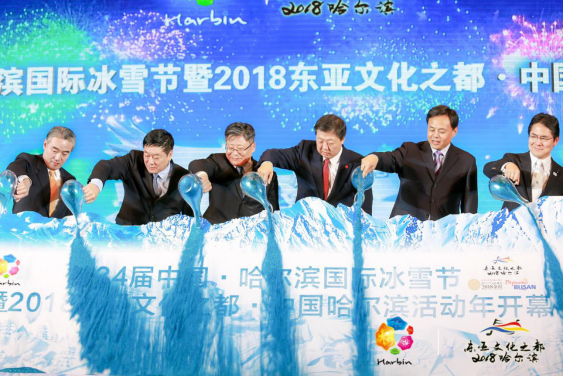 Leaders and guests (from left to right) Park Jae Min, deputy mayor of Busan city, South Korea; Wei Hongtao, deputy director of the China National Tourism Administration; Sun Dongsheng, deputy governor of Heilongjiang provincial government; Song Xibin, deputy secretary of CPC Harbin Municipal Committee and mayor of Harbin; Yu Qun, China's assistant minister of culture; and Hosoda Damade, deputy mayor of Kanazawa city, Japan, open the ice and snow festival. [Photo/Chinaculture.org]
The 34th China Harbin International Ice and Snow Festival & Culture City of East Asia 2018 opened Jan 5 in Harbin, East China's Heilongjiang province, a major event initiated and organized by the Ministry of Culture and Heilongjiang Provincial People's Government.
Culture City of East Asia is the major fruit of the strengthened cooperation in the social field thanks to the establishment of mechanism of the trilateral meetings for leaders of China, Japan, and South Korea. Since the campaign was launched in 2013, 13 cities from the three countries have been crowned this title. As the Culture Cities of East Asia 2018, Harbin, Kanazawa, and Busan look to hold various cultural exchange activities.
Culture City of East Asia 2018 • Harbin is to introduce more than 20 major activities of three themes — Dating with Snow and Ice, Tour of the Summer City and City of Music and other over 100 minor activities. Capitalizing on the Harbin International Ice and Snow Festival, this event starts with Dating with Ice and Snow in an effort to promote the ice and snow tourism resources in Harbin during January and March. Established in 1985, Harbin International Ice and Snow Festival has developed into a grand festival featuring ice and snow art exhibition, cultural exchanges, and economic cooperation.