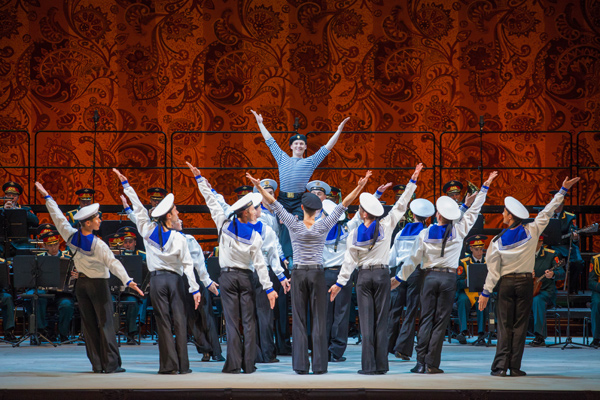 The Alexandrov Ensemble brings songs, dances and instrumental performances to Beijing. [Photo provided to China Daily]
The Russian army's official dance and choir troupe, the Alexandrov Ensemble, is staging five shows at the National Center for the Performing Arts in Beijing from Jan 4 to 7, with a variety of songs, dances and instrumental performances.
This is the first time for the ensemble to perform in China after 64 members of the group were killed in a plane crash, including its former artistic director, Valery Khalilov, on Dec 25, 2016.
The tragedy occurred when a Tu-154 aircraft crashed into the Black Sea two minutes after departing from the city of Sochi.
The members of the ensemble were flying to a Russian military base in Syria to perform at a New Year's concert.
Chen Ping, president of the NCPA, sent a message of condolence to the ensemble.
Zhu Jing, vice-president of the NCPA, says: "The ensemble has performed regularly at the NCPA since 2009. And we are honored to have them back.
"When we learned that the ensemble had started touring again, we invited them to perform at the NCPA."