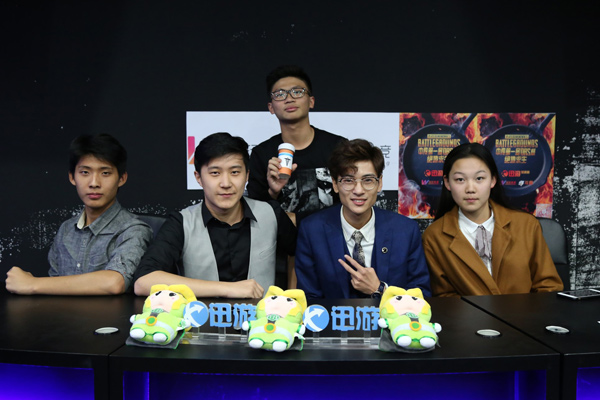 Anchors of the esports competition. [Photo provided to China Daily]
More joining in
In 2016, the Ministry of Education added esports to the list of majors for vocational colleges. More than 10 vocational colleges offered the major in 2017, including the Xilingol Vocational College in Xilinhot in the Inner Mongolia autonomous region; the Sichuan College of Media and Communication in Sichuan province's provincial capital, Chengdu; and the Hunan Sports Vocational College in Hunan province's capital, Changsha.
Most colleges work with game companies or esports clubs and offer students three-year courses. And their purpose is not limited to educating professional players. Students can also choose to become referees, coaches, sports agents or sports analysts.
Meanwhile, more universities are joining the esports-education bandwagon.
Shenzhen University in Guangdong's Shenzhen city will offer a new course called Esports Planning, Organizing and Management in 2018. And Sichuan University in Chengdu, and Wuhan University in Hubei province's capital, Wuhan, are also preparing to launch esports courses and majors.
Yang Rui, a manager at Tencent E-sports, says: "We hope more universities can join to help cultivate esports talent. The shortage of talent has become one of the biggest problems for the industry's long-term development."
Besides working with the Communication University of China, Tencent also has regular links with the ESPN network and the Massachusetts Institute of Technology in the United States to find ways to develop the Chinese esports industry, according to Yang.
As more universities and colleges are starting to offer esports degrees, some experts warn against the craze.
Wang Dong, a professor at the sports department of Shenzhen University, says it is necessary for universities to stay calm and rational in view of the booming market.
"We cannot be too rushed. I hope the public can view esports as a leisure activity and leave enough room for healthy development. Parents and teachers should also help students choose majors that fit them."
Alisports, which organizes the World Electronic Sports Games, successfully lobbied the Olympic Council of Asia to include esports at the 2022 Asian Games in Hangzhou. By that time, Hu and his classmates will have graduated. And their teachers and the university are optimistic about their students' prospects.
"We wish our students could make a contribution to the Asian Games, and we have the confidence they will," says Chen.