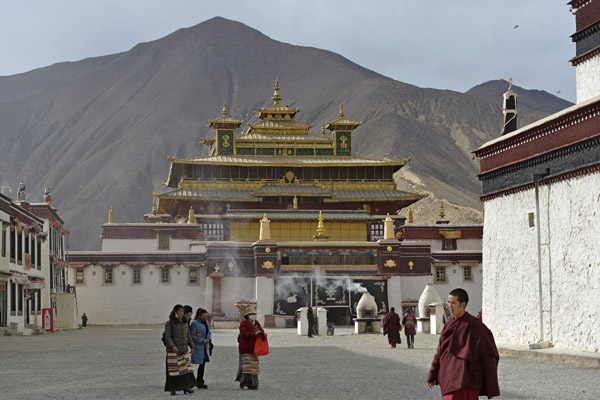 Restoration work at Samye Temple nears completion. [Photo/Xinhua]
Government support has ensured the protection and prosperity of the Tibet autonomous region's Buddhist monasteries.
Every sunrise, life inside Drepung Monastery begins as it has for centuries-monks awaken, chant sutras, eat a light breakfast and begin their studies.
An asphalt road connects the monastery at a mountain's foot with a western suburb of Lhasa. A world of golden sculptures and colorful murals is hidden behind its whitewashed walls.
Ubiquitous wooden signage in Chinese and English provides direction for the endless streams of Buddhist pilgrims and foreign tourists.
Drepung-the Gelug School's largest monastery-has stood silent witness to events beyond its walls for 600 years.
Many monasteries in the Tibet autonomous region are centuries old and in need of repair.