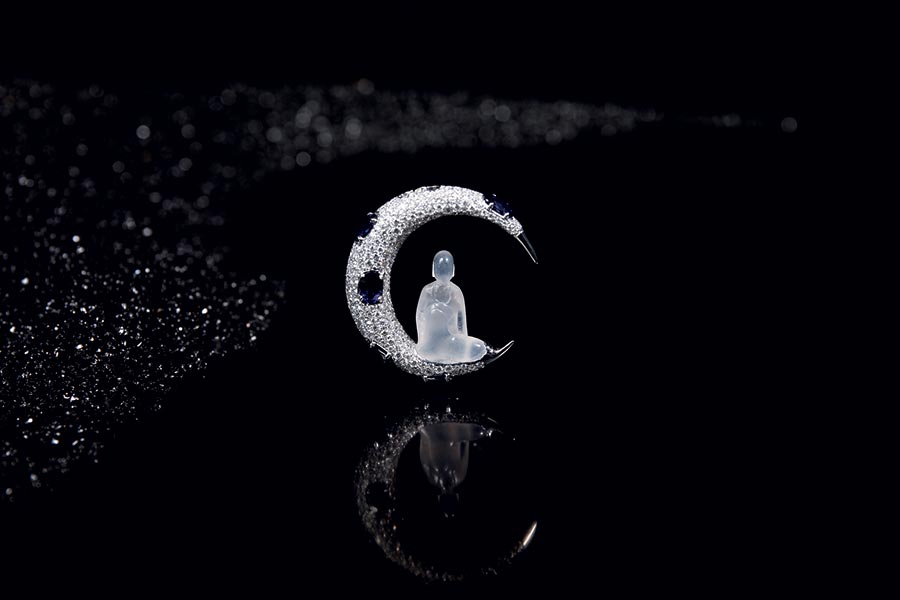 A pendent designed by Ming Che [Photo provided to China Daily]
Beijing-born artist Yang Genlian, 57, is famous for his jade carving skills. He has in recent years focused on creating objects that feature the craft of "jin xiang yu" -- jade inlaid with thin gold. The work also characterizes the gold medals used at the Beijing Olympic Games in 2008.
Jade objects on which Yang employs the "jin xiang yu" craft will go on the block at Beijing Tranthy's auction on Thursday.
One is a standing statue of General Guan Yu (160-219) who has been recognized as a national icon of integrity, bravery and royalty. It took Yang three years to complete the work.
The second piece is a tea set consisting of a tea pot and six cups. Besides the exquisite gold inlaid technique, the set also shows Yang's mastery with sculpting the jade as thin and translucent as that a piece of paper.
Apart from Yang's works, other works showing the depth and richness of Chinese cultural traditions will also go under the hammer at Tranthy.
For instance, works of up-and-coming jewelry designers Zhang Xuecheng and Ming Che show their understanding of classic Chinese philosophies on the relationship between human and nature. They well blend these philosophical views with the aesthetic tastes of modern people, allowing their designs to be well received by young collectors.