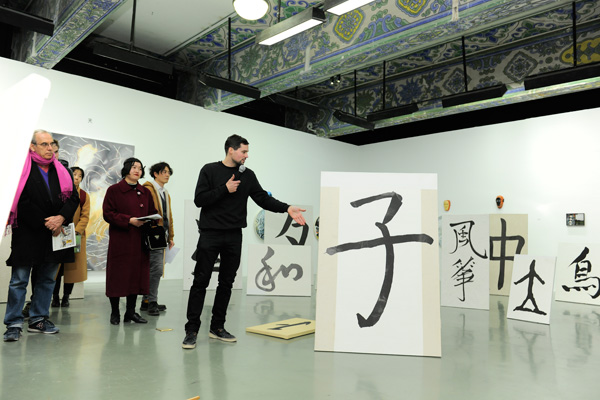 French artist Timothee Dufresne talks on how he created his artwork of Chinese characters in a recent exhibition in Beijing. [Photo provided to China Daily]
French artist Timothee Dufresne has turned to Chinese characters to explore art.
His ongoing show at Yishu 8, a nonprofit and art space in Beijing, has installations on which some characters are painted and visitors can play word games by moving them around.
Dufresne has been in the city since September as part of a three-month-long art residency program hosted by the art space for Chinese and French artists. The annual program started in 2011.
"For a laowai (foreigner) like me, Chinese characters are like paintings and sketches-very beautiful," says the 29-year-old artist from Paris.
All the characters at his exhibition have been painted on big wooden boards.
He produced them by first asking Chinese people he met in the streets, at parks and tourist spots to write different characters with ink brushes on paper, and then he painted them onto large boards, trying to make the characters look as close to their original handwritten forms as possible.
"Each character reminds me of the person who wrote it. To me, the writer and the character seem to share the same personality," says Dufresne, adding that the quality of handwriting didn't matter to him.
Chinese calligraphy stresses the movement of brushes as well as the color of inks, which is why it sometimes took him hours to paint a single character, he says.