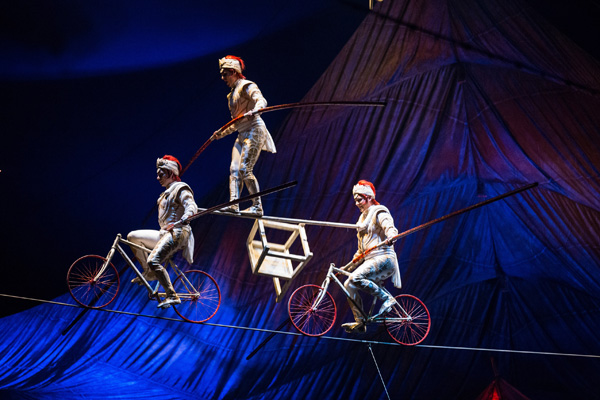 Cirque du Soleil is touring Beijing with its show Kooza, which combines the circus traditions of acrobatics and clowning. [Photo provided to China Daily]
Cirque du Soleil is now in Beijing with Kooza, after a successful tour in Shanghai.
Kooza, which will run in the capital till Feb 11, premiered in 2007 and is a return to the Canadian entertainment company's origins. The show combines the circus traditions of acrobatics and clowning.
"It's about human connection and the world of duality-good and bad," the show's writer and director David Shiner says.
The title takes inspiration from the Sanskrit word koza, which means "box", "chest" or "treasure". An underlying concept of the production is a "circus in a box", Shiner says.
The show is being brought to Beijing as part of the company's plan to expand in China.
Street performers Guy Laliberte and Gilles Ste-Croix founded the Montreal-based company in 1984.
Cirque du Soleil will tour seven Chinese cities next year, CEO Daniel Lamarre says.
They include a resident show that'll debut in Hangzhou, Zhejiang province, and a performance in Hainan province's Sanya of Toruk-The First Flight, which was inspired by James Cameron's film Avatar and premiered in 2015.
The company also recently opened its first office in Asia in Shanghai to develop its China business.
"Live entertainment in China is growing at a very rapid pace," Lamarre says in Beijing.
"We are very appealing because of our international footprint. At the same time, we are totally committed to becoming a Chinese citizen."
Cirque du Soleil's move into China has been supported by its Chinese shareholder, the Fosun Group, which acquired a 25 percent share of the company in 2015.
A goal is to stage resident shows in various Chinese cities, Lamarre says.
"For the show in Hangzhou, it is going to be hugely influenced by Chinese culture," he says.
"It will offer content where Chinese culture is going to meet Western culture."
Fosun Group's chairman Guo Guangchang is quoted on Cirque du Soleil's website as saying: "Our partnership with Cirque is a milestone in our company's cultural-entertainment business ... We believe that Fosun's superior resources will help propel Cirque's business growth in China and bring the entertainment company's world-class performing arts to Chinese audiences."