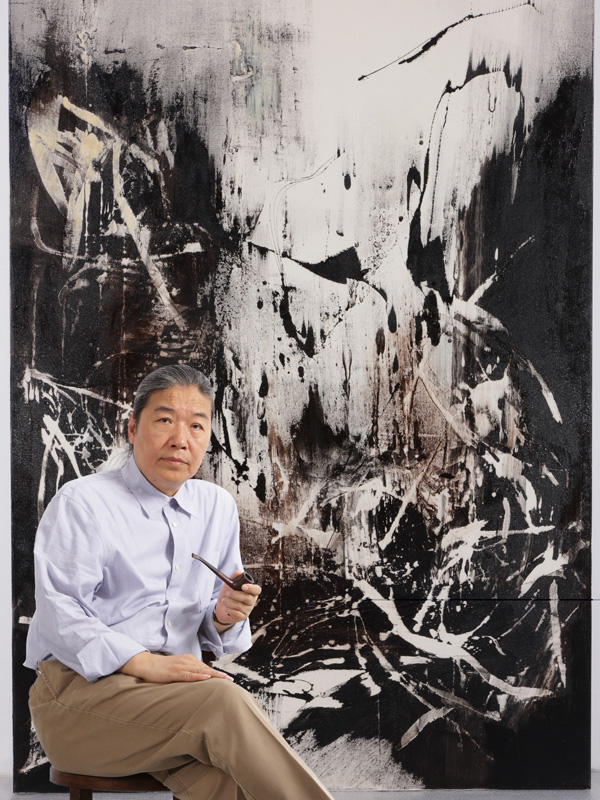 Artist Yang Chihung weaves the rhythmic and metric features of music into abstract paintings with acrylics on canvas. [Photo provided to China Daily]
Yang Chihung, an artist from Taiwan, likes symphonies and he listens to them when he paints. His favorite musicians include Bach, Beethoven, Mahler and Shostakovich.
He weaves the rhythmic and metric features of music into abstract paintings with acrylics on canvas.
"I don't visualize music notes. What I want is to present the same energy, depth and blending of layers as that of music," he says at his solo exhibition at Asia Art Center's space in Beijing.
"The audience will have different feelings every time when they look at my paintings and discover details they missed previously. It is like how one feels about the melody he keeps listening to."
The 70-year-old, who divides his time between Taipei and New York, has exhibited widely in Taiwan and US cities in a career spanning nearly five decades.
Yang creates works using photography, lithography, sketching, ink-brush painting and ceramics.
The Beijing exhibition, The Sensibilities of Black and White, focuses on his acrylic paintings.
The works on show are mostly a simple combination of black and white where he blends his understanding of music with the sense of motion he finds in Chinese calligraphy.
His works reflect the influence of caoshu (cursive script), which is usually written in a quick, rough way, but with a highly expressive, individualistic manner.
Yang's paintings can be mistaken for ink-brush works if viewed from far away.
"Tradition is precious. The present cannot be wonderful without tradition," says Yang.
"Caoshu is a form of plastic art through which the calligrapher explores the relationship between the strokes and between the ink and the white paper."
Yin Shuangxi, an art critic and professor of art history and theory at the Central Academy of Fine Arts in Beijing, says: "His art embodies a dialogue between the East and West.
"In his paintings, people can feel the flow of air, the integration of heaven and Earth, and an atmosphere.
"The audience do not have to find something specific in his works. He is a person who makes people embrace the world and feel nature."
Yang says his works are also filled with a tension between day and night. He says he usually paints when the day draws to a close and dawn arrives, and he shows the quick passing of time.
"Time is moving, but art can freeze it. Art is the only way that can take us back to the old days," he says.
"I don't like the word 'inspiration'. Every work arises from a particular state of mind."
As digital technology has been adopted by a growing number of artists, with some even training computer-controlled mechanical arms to paint, there are artists like Yang who believe that drawing is a uniquely human pursuit.
"I don't think artificial intelligence can replace humans in the creation of art," says Yang.
"People paint to express their emotions that are so rich, complicated and sensitive that they are difficult for AI to replicate."
If you go
10 am-6:30 pm, closed on Mondays, through March 4. Asia Art Center, 798 art zone, 2 Jiuxianqiao Lu, Chaoyang district, Beijing. 010-5978-9709.