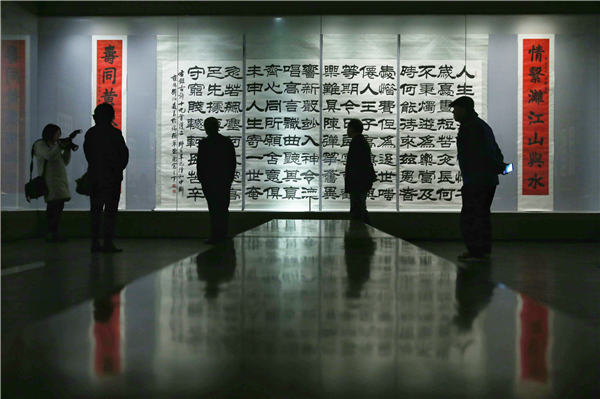 Visitors view a calligraphic work by the late artist Liu Bingsen at an ongoing show at the Palace Museum in Beijing. The show features many of his works of calligraphy, along with some of his lesser-known paintings. [Photo by Jiang Dong/China Daily]
After contributing about 6,700 handwritten characters of clerical script, or lishu, to Microsoft Office and other software packages, Buddhist and a respected scholar Liu Bingsen (1937-2005) succeeded in etching out his place in the history of modern Chinese calligraphy.
To honor his achievements in lishu and other styles of Chinese calligraphy, an exhibition marking the 80th anniversary of Liu's birth kicked off last week in the Palace Museum in Beijing, also known as the Forbidden City, his former place of work.
The exhibition, Bountiful Grasses on Red Walls, To the Ink-Soaked Memories, which shows about 70 of his iconic artworks and related historical documents, will run until February.
This time, not only Liu's iconic clerical script but also his works in other calligraphy styles-such as regular and cursive scripts-are also on display. Many of his works of calligraphy based on stanzas from ancient Chinese poems are included in the show, along with some of his lesser-known paintings.
Several exhibited artworks were donated by his family to the Palace Museum, which is known for being very particular when it comes to selecting works by modern artists. A seminar reviewing Liu's life work was also held at the museum recently.
"His calligraphy used inherited traditions well," says Shan Jixiang, director of the Palace Museum. "And it was also very close to the public aesthetic and practical needs of the time. He made it his social responsibility to improve education about calligraphy."
When working at the museum, Liu also studied many key cultural relics. For example, he was largely responsible for making facsimiles of ancient Chinese paintings and works of calligraphy. One highlight was his replica of a silk painting found in Mawangdui, in a Han Dynasty (202 BC-220 AD) tumulus, or burial mound, in Changsha, Hunan province.
Liu published dozens of different calligraphy copybooks over his lifetime, which sold millions of copies.
"Liu's creativity and inclusiveness of different schools make his clerical script work stand out," Su Shishu, head of the China Calligraphers Association, says. "Calligraphy was considered remote to people's daily lives before his time, but Liu was a pioneer in bringing it back to the grassroots."
In Liu's early years, Chinese calligraphy circles were dominated by a trend favoring bizarre styles, but Liu set a good example and helped steer its development back in the right direction.
"He urged calligraphers to adopt a sincere attitude, to create something more positive and adopt beautiful themes," Su says. "That helped to nurture many of the new generation of talent later."
He also points out that Liu was a key ambassador for Chinese calligraphy around the world.
Often traveling to the Americas, Europe and other Asian countries to promote calligraphy through lectures and exhibitions, Liu emphasized the importance of cross-border cultural communication. He visited Japan on more than 30 occasions, and was widely respected by in calligraphers in the country.
If you go
8:30 am to 4:30 pm, until Feb 23, closed on Mondays; Hall of Martial Valor (Wuying Dian), in the western wing of the Palace Museum, 4 Jingshan Qianjie, Dongchengdistrict, Beijing. Online reservations for tickets are needed on the museum's official English website en.dpm.org.cn.