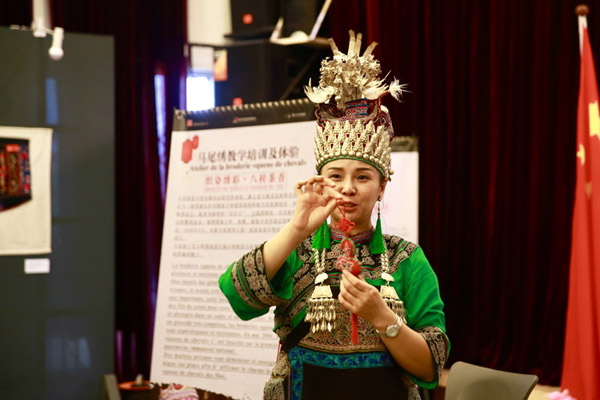 Wu Fang, an inheritor of Guangxi's horsetail embroidery, demonstrates a horsetail embroidery work at the China Cultural Center in Benin on Dec 18, 2017. [Photo/Chinaculture.org]

Woven with hair from horsetails, mawei embroidery, or horsetail embroidery, is a centuries-old embroidery inherited among the Shui nationality in Southwest China's Guizhou, Guangxi and Yunnan provinces. In 2006, the craft was included in the national list of intangible cultural heritage for better inheritance and preservation.

To showcase the diversity of Chinese folk art and offer a glimpse of the age-old craft of mawei embroidery, the China Cultural Center in Benin hosted a series of workshops for local people to experience the ethnic culture of Guangxi province from Dec 15-20.

From Dec 17-18, a special workshop for horsetail embroidery was held at the cultural center, attracting more than 50 locals to attend. Wu Fang, an inheritor of the craft, taught embroidery processes, including twining horsetail hair with silk thread to make the sewing threads, stitching woven fabrics with ornamental designs and making sachets.