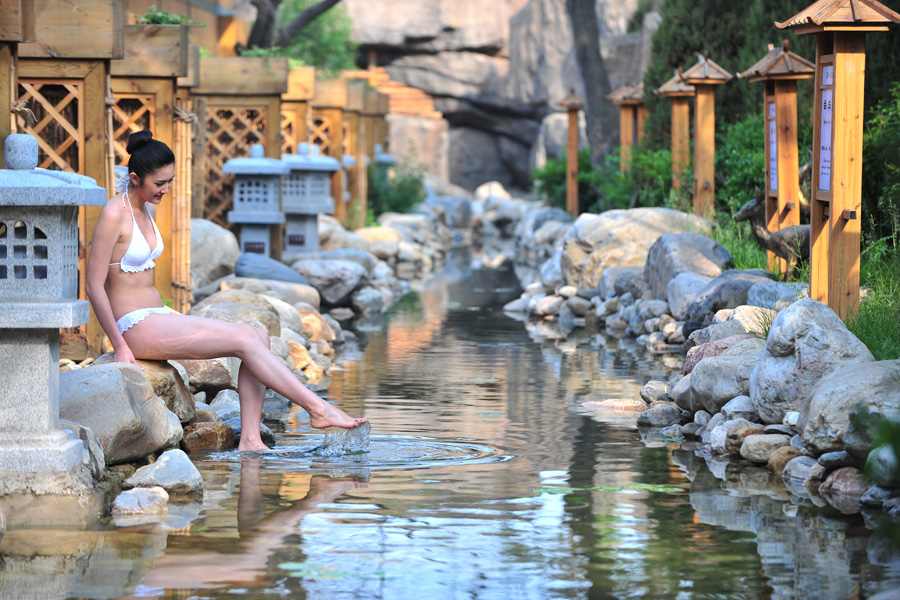 The abundant hot spring facilities at Yingkou, which have a capacity of 10 million visitors a year, have made the city in Northeast China's Liaoning province a popular winter destination. [Photo provided to China Daily]
Yingkou is actively developing coastal and hot spring experiences, Wang says.
It also proffers health-and-wellness experiences, says Wang Xiaojiang, deputy director of the Liaoning provincial tourism authority.
The city's hot spring facilities can receive 10 million people per year at full capacity.
Some major resorts, such as Baishawan, have seen the daily visitor numbers exceed 300,000.
Xiongyue's hot springs have been popular among locals since the Tang Dynasty (618-907). Tianmu Resort offers more than 60 pools of different temperatures arranged according to classical Chinese garden design. Hongyun House offers private Japanese-style hot spring experiences.
Many visitors soak in the springs after skiing, especially during the annual ski festival, which Yingkou plays host to.
Hejiagou and Hongxigu ski resorts are among the area's most popular. Both are tucked in a valley.
Hongxigu covers an area of 16,000 square meters and has a variety of courses for skiers of all levels. Professional trainers offer guidance.
The resort also offers snow soccer, snowmobiling and horse-drawn sleigh rides.