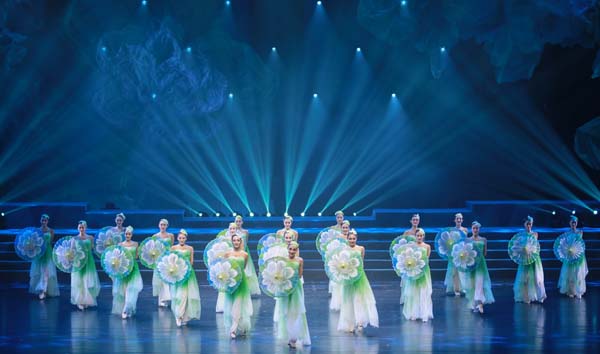 The performing arts fair in Guangzhou features a variety of performances, including dance, opera and folk music. [Photo provided to China Daily]
More performing artists from China are going abroad, while foreign troupes are visiting the country. Chen Nan reports in Guangzhou.
David J. Fraher, president and CEO of Arts Midwest, a nonprofit arts organization from the United States, arrived at the Guangzhou Opera House on a recent morning.
From 10 am to 5 pm, he watched a variety of shows from traditional operas to acrobatics, jazz and puppetry, by nearly 20 Chinese performing arts companies.
Fraher's nonprofit organization is based in Minneapolis, and he was in Guangzhou to attend the 2017 China International Performing Arts Fair and Silk Road International League of Theaters Annual Conference, held over Dec 11-14. The event attracted more than 400 people from 32 countries, including the US, France and Canada.
"I am impressed that Chinese artists have transformed during the past decades. They not just have great performing techniques but also are much more creative," says Fraher, who has been in his field for about three decades.
During his first visit to China in 1998, he watched The Red Detachment of Women, staged by the National Ballet of China.
He has since often traveled to the country and nurtured partnerships with an array of cultural organizations and artists in China. By helping Chinese art companies tour the US, Arts Midwest's cultural exchange programs with China have reached audiences and artists in more than 50 communities in the US, with total audience numbers hitting more than 1 million so far, Fraher says.
"We not only work with big companies and famous Chinese artists but also are interested in working with smaller art companies and young artists," he says.