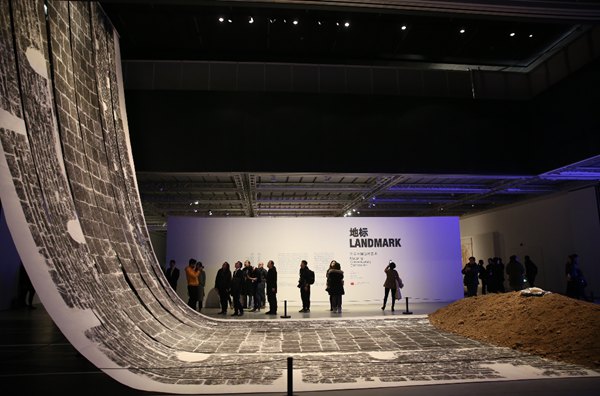 The ongoing show features such works as artist Xu Bing's Ghosts Pounding on the Wall. [Photo provided to China Daily]
In 1991, Chinese artist Xu Bing held his first exhibition in the United States at the University of Wisconsin with his iconic large-scale installation Book from the Sky and Ghosts Pounding on the Wall. 
The former was made up by thousands of Chinese characters and the latter was prints created from bricks from the Great Wall. The exhibition won international attention for the artist.
Xu's show in the US sparked a spirited discussion in China on contemporary art, a concept introduced to China in the 1980s that many Chinese art critics thought was a kind of invasion, says Zheng Shengtian, an experienced curator who attended Xu's show.
Meanwhile, Zheng has used Xu's work Ghosts Pounding on the Wall in a show, which opened on Saturday at Beijing's Guardian Art Center, as a way to showcase the birth of Chinese contemporary art.
The work has been displayed along with the works of 14 renowned Chinese artists who have made their mark in the past 30 years.
The show, titled Landmark: Mapping Contemporary Chinese Art, has works by established artists like Cai Guoqiang, who's known for his gunpowder works, and Cao Fei, who gained fame for her video and mixed media works.
Explaining his reasons for choosing the works, Zheng says he wants to show the development of Chinese contemporary art by displaying key art works from the past 30 years, and to show how changes that happened in China were recorded by artists through their works.
"I put the word landmark in the title because each piece is more or less a site-specific work," adds Zheng.
For instance, Xu's work Ghosts Pounding on the Wall involved the Great Wall, and transferring the bricks' pattern onto wall paper.
The name of Xu's work is Chinese slang that means wherever a person goes, he will walk back to where he begins, just like being tracked by a ghost.
Xu's show in the US was like telling the world that China also had contemporary art, says Zheng, adding: "For many years, Chinese artists produced works with a mission or burden to introduce China to the world. However, after 2000, many shifted their focus to social issues."